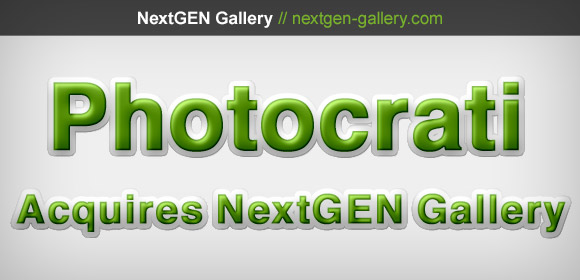 As part of Photocrati's ongoing effort to seamlessly provide the best integrated WordPress solutions for photographers all under one roof, Photocrati has acquired the highly popular NextGEN Gallery plugin.
NextGEN Gallery is a fully integrated image gallery plugin for WordPress with dozens of options and features. The plugin is great for anyone needing gallery functionality on a website; photographers, graphic designers and more.
NextGEN Gallery has over 5 million total downloads, 3,600 daily downloads and 26,000 weekly downloads, which makes it one of the most popular WordPress plugins ever.
What this means Photocrati theme users
The ultimate goal is to provide the best of NextGEN and Photocrati, plus lots of improvements on both, all as a seamless part of the Photocrati WordPress theme.  Photocrati 5.0 is in the works and the major update will replace the existing Photocrati Gallery systems with a new system that merges both NextGEN and Photocrati.
NextGEN Updates
NextGEN users can expect some exciting updates throughout the year. The Photocrati team plans to:
Improve and streamline the existing back-end interface
Add an interface to create and manage galleries directly from posts and pages
Make a range of smaller fixes and security patches.
NextGEN Pro
Photocrati will also launch a premium upgrade for NextGEN, called NextGEN Pro. Offering a range of beautiful new gallery display styles as well as fully-featured ecommerce functionality. Some of the plans for NextGEN Pro include:
Alternative slideshow displays
Alternative filmstrip displays
Alternative thumbnail displays
Caption and filmstrip skins to adjust styling
Fully-featured ecommerce for all gallery types and including print and price options
Digital downloads
Shopping cart and PayPal integration
NextGEN & Photocrati WordPress Theme
The Photocrati Team is already hard at work merging NextGEN and NextGEN Pro into the popular Photocrati WordPress theme. Soon, Photocrati users will have all the functionality of these plugins seamlessly available in the Photocrati theme, without losing any of the options or gallery displays currently available
Integration & Update Timing
The integration process is very complicated and Photocrati must take into account the needs of existing Photocrati and NextGEN Gallery users. Be assured, they plan to keep the community posted on the progress and with as many details as possible.
Please visit the Photocrati and NextGEN Gallery site announcements for more details.
Thanks for reading,
Scott