Running your own photoblog is a great way to create a custom portfolio of your photography work with longevity. I have always opted for a self hosted WordPress blog that offers an easy to use platform to share your work and the enjoyment of watching your blog grow in popularity.
There are literally hundreds of web hosts that offer WordPress hosting, many even offer an automatic install option for WordPress through the likes of Fantastico in just a couple of clicks. Once you have a host and have installed wordpress here are a few tips on getting your blog up and running.
1. Pick a Great WordPress Theme
WordPress offers the ability to install custom themes although there are stacks of free themes out there I quite like the idea of reducing the number of blogs that will look like mine by investing in a custom theme. We recently covered a selection Top WordPress Themes for Photographers and Another 10 Top WordPress themes for Photographers. Both posts feature themes that cost $30-$35 and generally offer free updates and support for installation.
2. Install some Plugins
There are some really great plugins available from wordpress that offer flickr, twitter and Facebook integration right through to general wordpress maintenance. We have listed 10 Essential WordPress Plugins for photoblogs here but there are dozens more in the plugin directory to help you customise your blog.
Once you have installed your plugins WordPress will prompt you each time there is an update, updating is a matter of a single click.
3. Post Regularly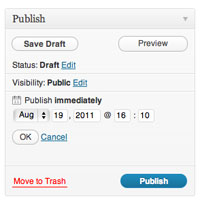 I personally think it is best to space your posts out so each has time to reach the bloggisphere. If you find yourself in the situation of adding more than one post in a single blogging session then you might want to schedule a post for later in the week.
4. Automatically Tweet your New Posts
There is no point in Photoblogging if people aren't going to hear about your updates.
Eventually you will have RSS subscribers but as you start out you might want to have a system like Twitterfeed automatically tweet each new post. Simply add the address of your RSS feed, authorise with Twitter and Twitterfeed does the rest.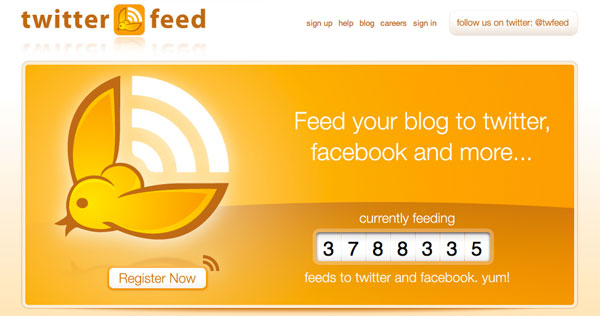 5. Add Words
Search Engines love content and posting a single photo with no text can result in little interest from the main search engines. Adding a description can really help people find your blog. One area I personally struggle to do right is titling and tagging my photos. This post outlines the best SEO tips for photobloggers.
6. Join the Community
Just like you want people to visit your blog and leave comments it is important you take part in the community and do the same. Better still when you leave a comment it normally asks for a link to your website. Grow your community.
7. Keep Going
There can be days when you think it isn't worth bothering with a photoblog, days when no one visits and days when people leave nasty comments. Keep going! Blog because you love taking and displaying your photos. There is nothing more rewarding when a book or magazine publisher gets in touch asking to use an image or when another photographer takes time to leave you a positive comment.
If you have any other tips please post them below and remember to include a link to your blog in the Website field, we want to hear of great plugin finds or other tips to promote your blog.
Links