I noticed a new question on Quora: What are the must-have accessories and equipment for professional photographers?
It got me thinking… how important are accessories?
I recently made the switch from a Nikon D700 to a Leica M9 as my daily camera.  The reason for it was because of all the frills and extra baggage I needed.
With the Leica M9, I can walk around with a small but high quality, manually controlled, camera and still get amazing photographs.  The accessories I carry around with me the most are a cable release, tripod, extra memory cards and 1 extra battery.
Depending on the situation I will carry 1 flash.
What about you?
We asked the Facebook community what they keep in their camera bag.  Head over to the Facebook page to see what answers we received.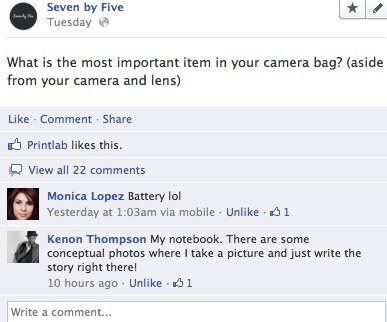 If you don't have Facebook, comment below with what accessories you feel should fall under the must-have category?
When you comment, please also share what your camera setup is.
Thanks for reading,
Scott