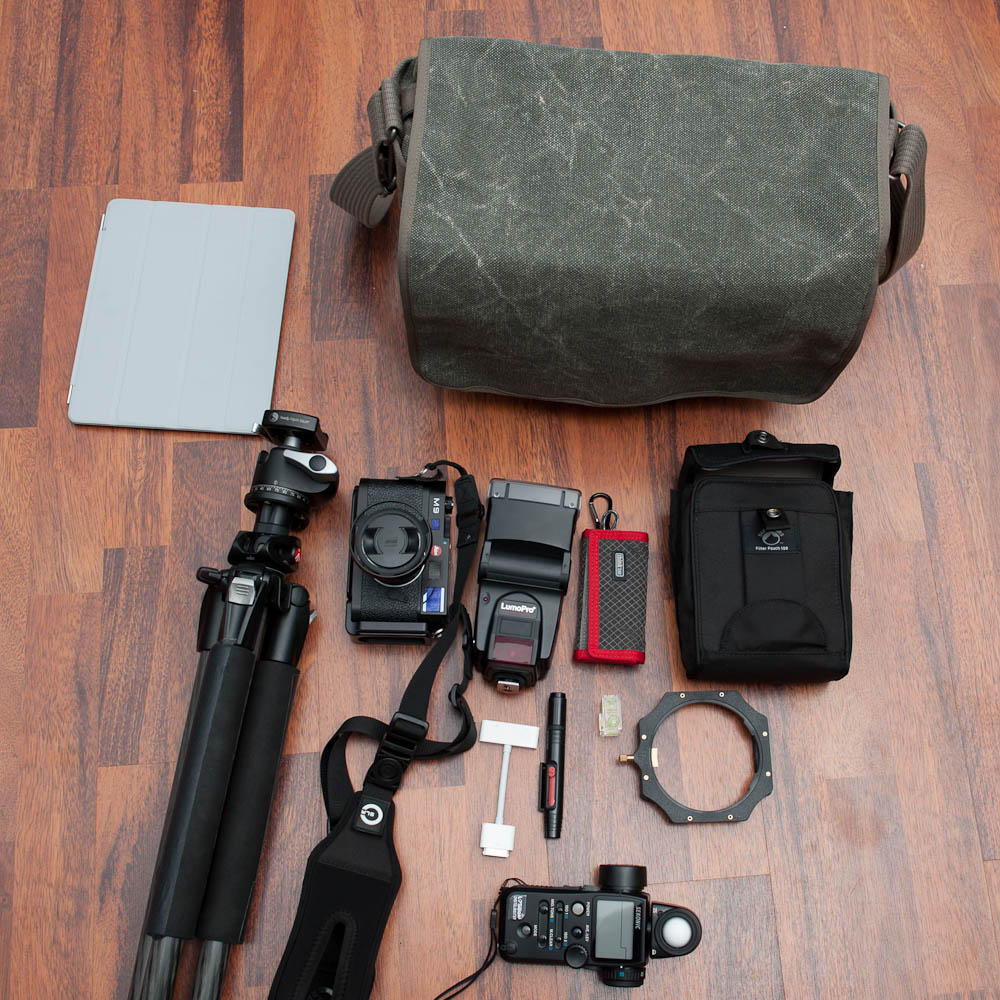 This is what I call my Leica bag.  Even though the bag itself isn't a Leica brand product, this setup is used only with the Leica camera.
The Leica body is a M9 and I currently have only one lens for it.  The Zeiss 25mm f/2 wide angle lens.  I recently made a decision to change from having two Nikon D700 bodies to only one with throwing Leica into the mix.  The camera, for me, is ideal.  It allows me to photograph paid jobs and at the same time, have a small, lightweight fully manual body.
Attached to the camera is a strap from CustomSLR.  The strap is big considering the size of the camera, but it's extremely comfortable.
The flash you see is the LumoPro LP160 Quad-sync flash which is bigger than the camera body, but packs a powerful punch for a very good price.  The flash fires as wide as 24mm, so it works very well even with the Zeiss 25mm lens.
The bag is a Retrospective model from Think Tank Photo.  I like it because it not only looks vintage, but it's made to last.  The quality of construction and the materials they use are top notch.  The bag holds everything I need it to, but at the same time has the minimalistic feel of the camera itself.
Of course, a photographer can't go anywhere without extra memory cards.  That is why I use a Think Tank Photo Pixel Pocket.  This wallet is made to hold multiple compact flash and SD cards.  Think Tank Photo only recently came out with a SD only wallet.   The wallet clips on to the outside of the camera bag or to a belt loop of my pants.
That pen looking thing is a Lens Pen.  Takes up very little space and has a built in brush and lens cleaner for when wind picks up and debris gets on the lens or camera's metering and focus screens.
You also see a small greenish thing next to the Lens Pen.  That is a bubble level that can be picked up from most camera stores.  You can find them for around 5 – $10 and help level your camera body for photographing landscapes.
Just below the Lens Pen is a light meter from Sekonic.  The reason I use such a high tech light meter with the Leica is simple.  This meter triggers my PocketWizards and is used with my other camera setups.  There is no reason to have multiple light meters so this one gets transferred between bags a lot.
Lee Filters – gotta love them!  The rectangular black push and the circular bracket looking thing are my Lee Fliters and mount.  These filters are high quality glass and resin, giving the ability to slide in and out multiple filters at once.  Lee also makes a bracket specifically for rangefinders, but all it does is not cover the viewfinder and focus windows.  Being that I use the Lee Filter kit on multiple cameras, I went for the Foundation Kit anyway.  I meter and focus before sliding the filters on the mount to get around the problem.
Can't go anywhere without a tripod.  I use a Manfrotto tripod with a Really Right Stuff ball head.  When walking around not using the tripod, I slip one of the legs through a loop on the side of the camera bag.  That makes it possible for me to not carry the tripod with my hands.   Once you have a Really Right Stuff head, it means the camera needs a Arca Swiss style camera plate.  Fortunately Really Right Stuff makes an incredible Leica M9 plate that is custom to the camera, so I picked one of those up.   You can see the L-bracket from Really Right Stuff on the camera.
There are two items that I forgot to photograph because they're always tucked in a small, flat pocket of the bag.
The ColorChecker Passport.  It's always with me no matter what.
A cable release.  Can't leave home without one!
Last, but not least, is my iPad and the SD reader.  This isn't with the bag 100% of the time, but usually it is.  Sometimes it's nice to sit back in a coffee shop and see the beautiful photographs you just captured.
-
Scott Wyden Kivowitz is a New Jersey Photographer focused on capturing stunning landscapes, beautiful portraits and sharing his passion for photography.