Today I have been experimenting with Wacom's second generation Bamboo graphics tablet and I love it. If you consider graphics tablets to be the realm of the professional graphic artist or animator then it is time to seriously think again. The Bamboo unlocks creativity at all levels with the device being aimed at the home user who wants to enhance their communication based digital creative lifestyle.
Despite being less than £90 the second generation makes a real leap in technological improvement with the introduction of multi-touch gestures allowing you to use your fingers as an alternative to the digital pen.
My review model is the small version of Wacom Bamboo Fun although a slightly larger 'medium' size is available I personally think this small version offers a more than spacious working area for general Photoshop work.
Before connecting the device to your computer you first need to install the Wacom software driver. This is a simple process during which you will be asked to select a tablet orientation. I have to say as a 'lefty' this is a welcome addition to proceedings as there is nothing worse than having to use hardware upside down just because you are one of the ten percent that writes with their left hand.
Once installed it is time to take a look at who the Bamboo fun offers and later I am going to post just once really easy yet ultra creative use for your new Bamboo by using it to create a simple rotoscope animation.
The Bamboo looks amazing and it is equally stunning and easy to use. With previous graphics tablets users had to use the pen as the only input method and thus the pointer had to sit in a little holder between uses so it didn't interfere with the cursor when the mouse was in use.
This second generation device offers massive improvement on the previous version and this version is more than a design tool it is a pretty brilliant general input device. To be honest I see myself using the tablet as a quick navigation pad next to my keyboard as using the Bamboo with my finger offers a considerably quicker way to navigate around my desktop over the traditional mouse.
I have created a very quick video guide on my first experiences that includes multi-touch, the Bamboo settings and using the device as a digital ink source.
Video Demo
This video is also available in your YouTube Group.
Childs Play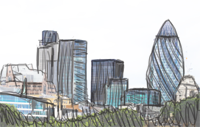 A graphics tablet isn't really something you expect to see in the hands of a primary school pupil as it almost akin to the Porsche version of Etch-A-Sketch but I couldn't help considering how a young child would get on doing a spot of simple tracing in Photoshop.
Before you rack your brain trying to work out what this drawing actually is, it is a child's view of the London skyline.
I created 3 layers in Photoshop, 1. a white background, layer 2, the photo at 50% opacity and then finally a 3rd layer on to which my 6 year old artist drew with a 5pt brush.
This was the product of at most ten minutes play and I think the Bamboo is the type of device you have to get to know to get the most out of it. This drawing certainly isn't going to win any awards but the learning and enjoyment experienced in digital drawing was amazing. Perhaps a little cruel but the original skyline photo can be seen here.
The Fun in Bamboo Fun
It was remarkable just how sensitive the tablet is to pressure. It isn't just a matter of holding the pen against the slate the harder and lighter you lean effects the overall drawn output just as if you were using a real pencil.
The Fun comes on in silver and white with both sizes offer an extremely simple,inspiring and spontaneous way to express your creativity through more natural-looking paintings or drawings.
I am seeing a whole new side to both Skitch and Evernote using the Bamboo as the main input device. Users can also download a variety of useful Bamboo Mini software applications inside Bamboo Dock as well as the full versions of Adobe Photoshop Elements and ArtRage.
I would say the fact user has to download the software applications is the only annoying aspect of the package but I guess this encourages users to register their devices with Wacom also introduces the whole mini software features. The mini applications offer creative tools as well as a number of entertainment and gaming applications.
The Dock application is Adobe Air based and on first download of the 28MB file I was immediately prompted to update :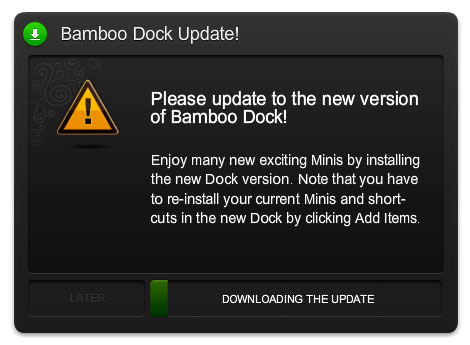 Once updated I was in the land of Bamboo minis. If anyone is on twitter you might have spotted a view of my creations tweeted during the evening. The Bamboo already works perfectly with your main Mac applications but the Minis offer a little bit of extra functionality and excitement. Once installed the Air application sits nicely on your desktop (you can move it around, hide it etc).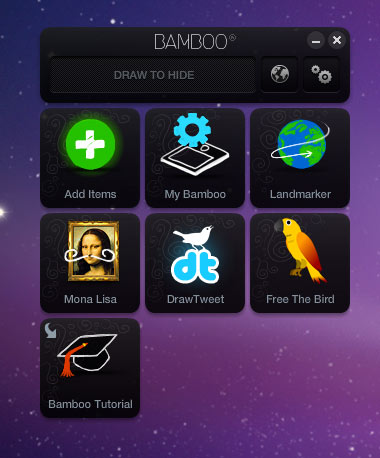 As previously mentioned the ability to draw (if you can) and tweet drawings is a really brilliant feature making DrawTweet my favourite Mini app.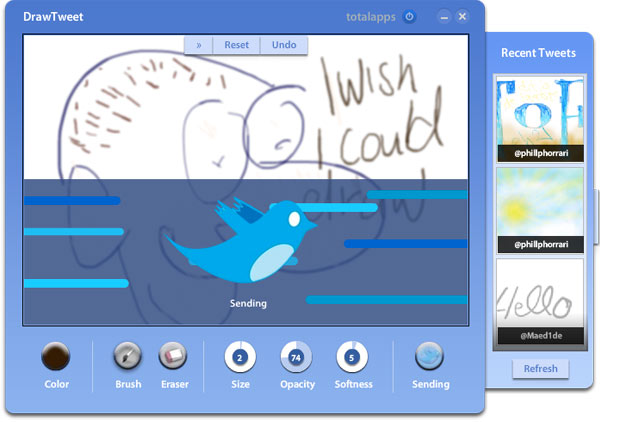 All in all at under £90 for the small Bamboo fun I would highly recommend the device to anyone regardless of how creative they consider themselves. The multitouch features make it a remarkable navigation device as well as offering the freedom to enhance, develop and improve on your digital photography or design work with ease.