If you have ventured into the realm of charging for your photography you will be aware of how difficult it can be keep track of what was billed and what has been paid for. In a time when company 'image' is everything it is important your business documents look just as professional as your photographs and this can be a design challenge in itself.
One complete solution is Marketcircle's Billings App. Billings is a one stop app for anyone in the freelance industry, it not only allows you to keep track of invoicing but also offers a powerful document creation tool so a professional business image is literally only a few clicks away. Now, before PC users get too excited I think it is important to mention that Billings 3 is a Mac only application.
There are many different models for charging for your services. Some photographers charge for their time while others charge for a product such as books and prints. Billings can cope with both models perfectly and allows you to keep track of both project and business expenses.
On initial setup the Billings wizard collects the various aspects of your business it needs such as name, logos address, TAX status and even what you plan to charge per hour and per mile (expenses).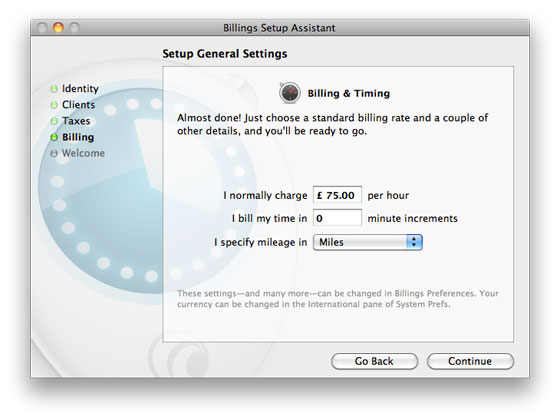 1. Estimates & Invoices
The first step is to add your customers to Billings. The app pulls directly from your address book and creates a separate billings folder. The benefit of this is you can use the distribution list to easily send emails to your customers.
Each customer has a set of projects, these could be wedding, portrait, divorce, wedding etc. Each project then has a series of chargeable 'slips', which are the billable lines in your invoices / Estimate.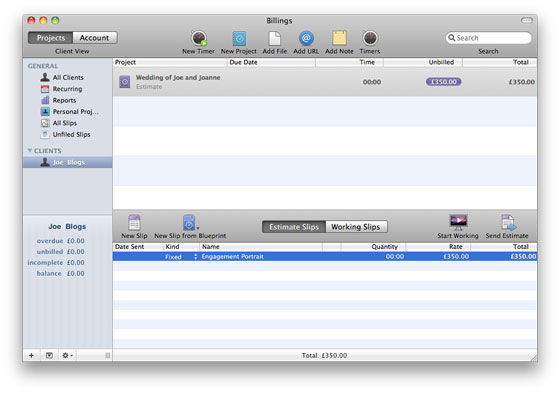 I personally don't use the estimate feature very much but I suspect it would be an essential tool for the likes of wedding photographers who perhaps have to pitch for business.
Once an estimate has been sent and approved you click on it to "Start Working" which converts the estimate slip into a working slip ready for processing and invoicing on completion.
Billings isn't just a time tracking application but a powerful and accurate way of charging for all your services and products. Blueslips allow you to create templates for products you bill for on a regular basis. These could be print sizes, photos on CD of even photo books. The more you put into the application the easier and faster it is to use.
Sending Invoices the Easy Way
One area where Billings has saved me a considerable amount of time, effort and expense is in the process of sending invoices. Billings creates stunning PDF versions of your documents and has the ability to send a PDF invoice to a client via email all from within the app. No more printing, no more posting!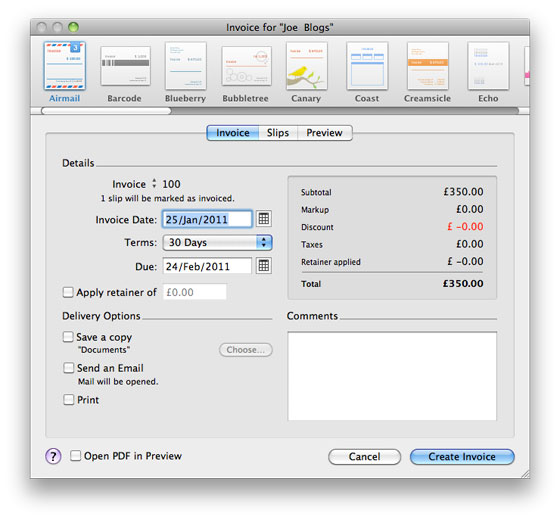 Click on 'Send Invoice' and you can customise the notes field before Billings attaches the PDF to an email in Mail.app ready for sending to your client.
2. Tracking Expenses
As well as project related expenses Billings can also help you keep track of your global business expenses via the 'Personal Projects' area. Under Personal Projects create a new Project called "Expenses" and add a new slip for each expense.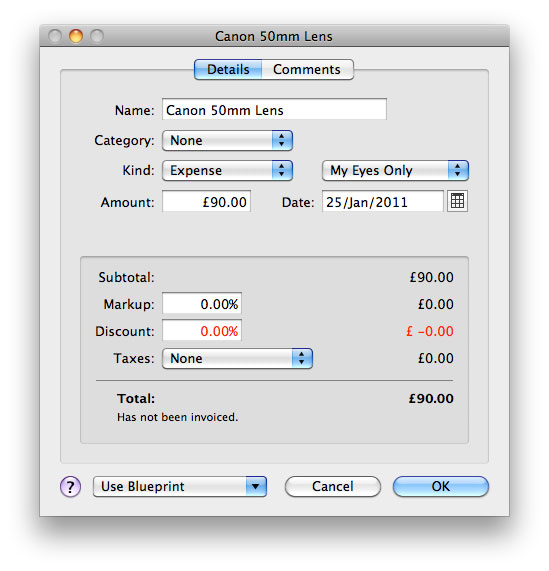 Remember to add the date of the expense, mark it is an expense and then mark it for "your eyes only" You can then run the 'expenses' report when it comes to the dreaded tax return preparations for a complete overview of your outgoings.
3. Receiving Payment
When a client pays an invoice you can mark it as paid by clicking on the client view and then 'Receive Payment'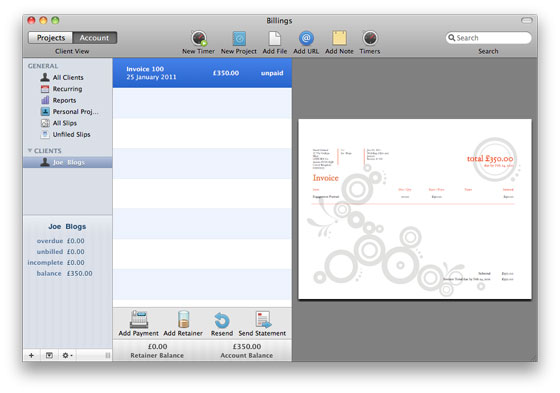 Once a payment has been received Billings displays a rather nice paper receipt graphic complete with the traditional sheep doodle on the bottom left.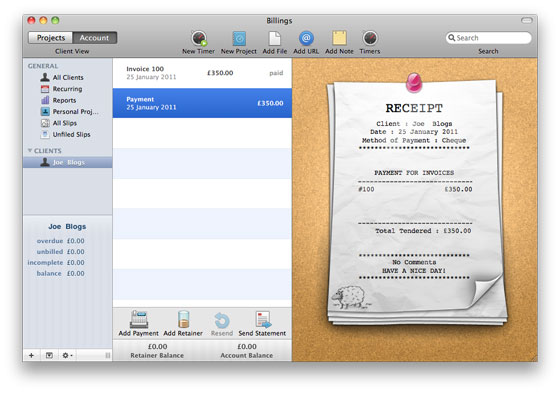 4. Statements
Billings helps you track over due payments by turning a client red (not literally) when an invoice is overdue. I tend to leave overdue invoices for a week and then send an email statement PDF. To do this, click on 'client view' and then 'send statement.' Like invoices there are a range of templates available and you can also use the designer to come up with your own custom look.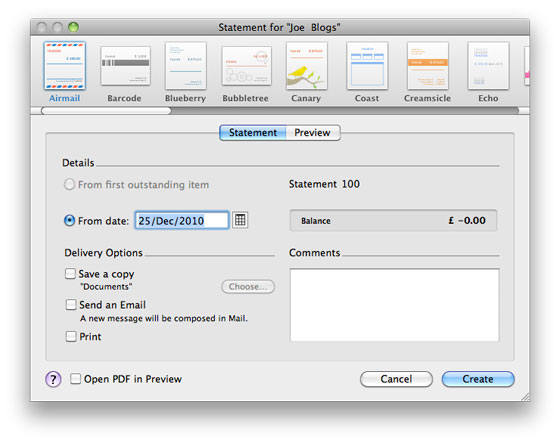 5. Reports
Billings isn't just about invoicing and tracking payments. A powerful reporting system allows you to view pretty much every aspect of your business thus allowing you to concentrate on taking photographs.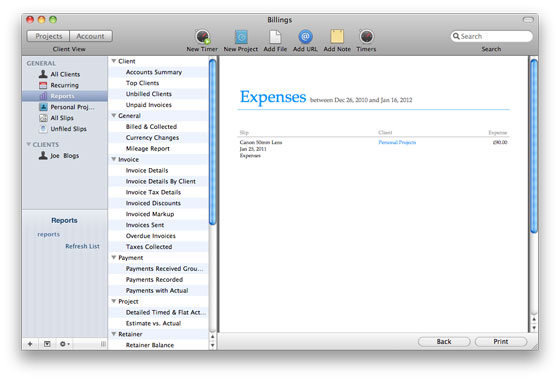 6. Business Image
There is no doubt your personal brand or corporate image is particularly important and at least 'appearing' like a professional outfit is essential for repeat business. Very few people like the stock templates that come with any application and although the standard Billings invoices look great nothing beats a bespoke design.
The Billings Invoice,Statement,Estimate designer is a powerful design tool that allows you to easily create stunning custom designs.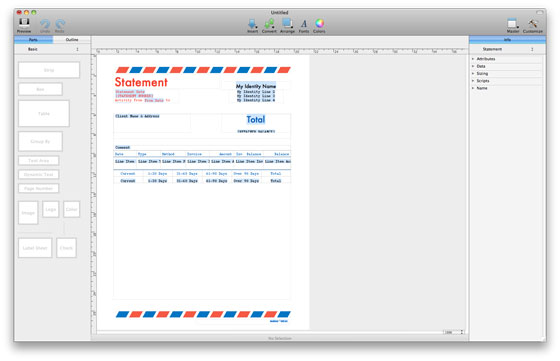 I have to admit it took me a few hours to get my invoice design perfect but once complete I was able to easily replicate the design for estimates and statements. There is literally no risk of a customer receiving the same invoice design from two sources given how powerful the editing tools are in Billings.
7. iPhone App
Marketcircle also offer Billings Touch a mobile companion to the Billings for Mac application. You can use the app for standalone invoicing or as I use it and extension of your desktop install.
Although it offers the ability to time jobs for invoicing purposes I tend to use the app as a quick and easy way to track costs or keep an eye on jobs while travelling.
Conclusion
I recently read that only 30% of a professional photographer's time is actually spent taking photos the other 70% is spent marketing and managing their business. If you find you are wasting time trying creating invoices, tracking payments or even simply keeping track of what you charge for each item then Billings is an essential tool for every Mac owning photographer.
From professional invoicing designs through to an intuitive workflow Billings has definitely made my life easier, the ability to set up retainers and even recurring invoices means you never forget an invoice again.

Links:
Win
We have two copies of Billings 3 for Mac to give away. All you have to do is like our Facebook page and comment on the reference to this article.