This summer I embarked on a photographic adventure exploring the power of Adobe Photoshop Lightroom 2. Previously my photography workflow involved a brief encounter with Apple Aperture and then back to the comfort and simplicity of iPhoto with Photoshop as an external editor.
Adobe Lightroom has transformed my opinion on photography post production completely and not to exaggerate too much has revolutionised how I not only process my photos and also the resultant photograph.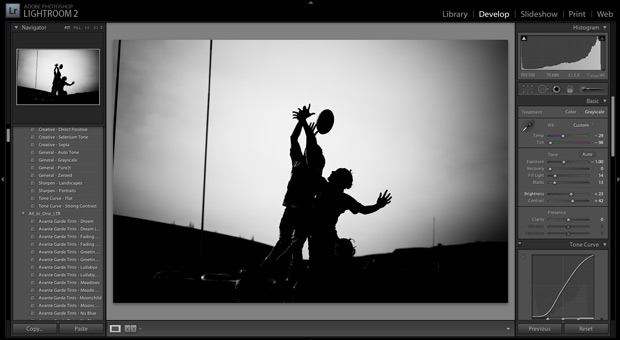 One of the great aspects of the software is that it is usably right out of the box in that you can manage, manipulate and publish your photos quickly and easily. That said the more I use the software the more power and opportunity it offers.
If like me you are somewhere between complete novice and pro and don't quite have the confidence to use Lightroom's image control tools unaided then 'Presets' are an excellent way to explore different (non destructive) photo outputs. It took me a month to realise there are considerably more presets out there than those shipped with the product and in actual fact there were a stack of photographers out there developing and supplying (many of them free) their own custom presets.
Presets are simply a one click image transformation for your photos. Personally I think if you are going to get the most from Lightroom you should think of presets as a starting point, i.e. add the effect and then apply your own future adjustment to attain the desired output, don't just apply a preset and export.
I have been using a range of presets over the last month and in addition to the obvious benefit of transforming my images I have also learned a considerable amount in how the 'Develop' tab works in Lightroom and how to manually manipulate my photos. Admittedly not all presets out there are free but any I have paid for have cost around $10 for a set which is perfectly affordable (just).
Installing Presets is simple. Load Lightroom, select any image and click on the Develop tab on the top right of the application. Now right click in the presets tab (left of the screen and select "install" Find the preset you have downloaded and want to install and Lightroom will add it to the Presets menu. As your list of presets grow you can create folders for easy management and access.
Lightroom ships with a nice set of presets but here are some sites that offer both free and premium presets. If you know (or find any others) I would love to hear about them.
Presets:
640 Pixels Presets
Vintage New York Preset
Max Payne Style Preset
The Lights Right Presets
Camera Dojo Free Presets
Rebecca Myers Presets
Shutter Sisters Presets
Mark Elkin's Presets
Better Black and White
Preset Heaven
Gantico Presets
Rebecca Lily's Presets