onOne Software announced Perfect Photo Suite 7 for Adobe Lightroom, Photoshop, Apple Aperture and as a standalone application.
Perfect Photo Suite 7 now offers new easy-to-use, yet powerful tools to develop stunning black and white images, enhance, stylize and correct images, retouch portraits and prepare all images, including mobile snapshots, for enlargement and print. Perfect Photo Suite 7 includes the brand new module Perfect B&W,Perfect Effects 4, Perfect Portrait 2, Perfect Layers 3 and Perfect Resize 7.5 Pro, Perfect Mask 5.2 and FocalPoint 2.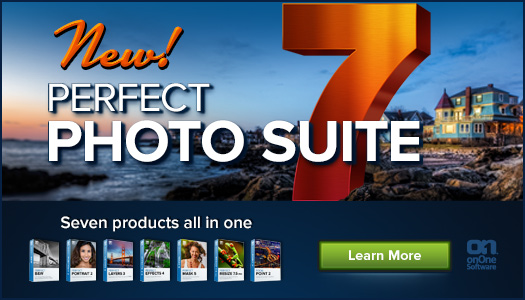 What makes the Perfect Photo Suite the best photo editing software available?  Less time processing so you can keep shooting.
Perfect B&W is the completely brand new module that helps photographers develop stunning black and white images quickly and easily.
Perfect Effects 4 extends the creative power offered by the popular PhotoTools and provides even more ways to create images with impact.
Perfect Portrait 2 offers simply power portrait retouching, now improved with more accurate automated feature detection and enhancement tools to smooth skin, remove blemishes, brighten eyes and teeth, and correct skin color. Faster processing speeds also allow photographers to retouch images more quickly for simply stunning portraits.
Perfect Layers 3 gives photographers the ability to combine images and extend their image editing options in a layered file workflow without Photoshop. Create and edit multi-layered files with Perfect Layers directly from Lightroom, Aperture or as a standalone application.
Perfect Resize is that industry standard for image enlargement.
Perfect Mask 5.2 creates high quality masks quickly and easily with automated functionality and powerful tools that make selecting subjects and isolating backgrounds for removal extraordinarily accurate.
FocalPoint 2 allows photographers to put the focus where they want after the shot.
The Perfect Photo Suite is now available at a very generous price, lower than Photoshop!