Sometimes it just isn't practical to take your digital SLR camera everywhere you go but that doesn't mean the photography fun has to stop especially that is if you own an iPhone. Over the last few weeks I have been playing with the brilliant Hipstamatic for iPhone app.
Hipstamatic transforms the digital camera on your phone to a fully fledged analogue art box. You can interchange both the lens and film type with a quick flip of your finger and the results are really stunning.
Mimicking the classic 80's analogue camera in terms of both output and also  how you actually use the application. A large yellow button and old style viewfinder make this application even more authentic and exciting.
Quality Adjustments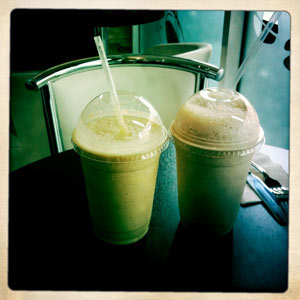 If you buy this application the first think I recommend doing is changing the image quality in the advanced settings.
Although there is absolutely nothing wrong with the standard quality images the higher quality images have the edge especially if you want to post them to the likes of Flickr.
The only draw back is slightly longer image processing time but not enough to be annoying.
Fun with Sharing
Hipstamatic comes with the ability to share your photos with friends and family by email, flickr and Facebook.
I now use the application for all of my Facebook photo sharing on the move simply as the photo effects make the images much more spectacular and the larger version look fantastic on flickr.
Like all apps you have to authorise Hipstamatic to access your flickr and Facebook accounts but once that is complete sharing is effortless. Here is a larger version of the milkshake photo I took earlier this morning on flickr.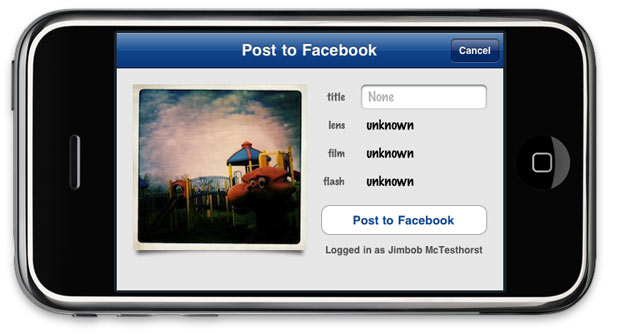 Add Additional Lenses & Films
The application costs £1.19 which includes a number of film types and lens, you can increase your options with "in app" purchases and although I find the concept of having to buy additional features annoying the fact the standard options are so good means you don't really have to.

That said there are already a number of lenses that are tempting me and I have already succumbed to the BlackKeys b/w film which comes with the lucifer lens for $0.99 (The Portland Pack) but I predict the others will be in the shopping cart in the next few weeks.
This is a sample photo with the b&w film it was literally taken at my desk so isn't the nicest of views I have to say but you will get an idea of what the film produces.
Show us Yours!
If you have an iPhone and use the Hipstamatic app why now share your best shots in the Seven by Five Flick Group . Make sure they are tagged "Hipstamatic" (this is added automatically if you share directly from the application). I have kicked things off with this photo, get out there and get snapping.
Links: