Hi, I'm Jeroen de Kort, a 43 year old independent freelance photographer from the Netherlands. I'm married, have 3 wonderful daughters and besides my photography work I'm busy working for a boss in the IT business as a project manager. As a gadget lover I had to wait a while before the iPad was available over here but I bought it immediately when it was officially available.
One of the first things I did on the iPad was working with photos and exploring all possibilities. In the past few months I discovered lots and lots of photo apps, each concentrating on a specific task (enhancing, manipulating, decorating, mood creating, publishing).
Then Photogene came along, an app pretending to do everything … within iPad limits of course. In the end it always boils down to the fact that you're working on an iPad and not on a Mac/PC, so that you can't do everything is just a fact that you have to accept.
Let's get started
Like most iPad apps downloading and installing Photogene is child splay. Just locate it in the AppStore, buy it for a few bucks, download it and in a moment or two you're on the run.
Opening new apps is always a surprise to me and I'm mostly a little anxious what to expect. Photogene starts with a short timed small splash screen followed with the almost common question if the app may store your location. A little awkward at first but logical after a moment of thinking. Photogene stores your location in the image metadata, for what it's worth, but may come in handy in some cases.
First things you'll see are your photo albums in which you can navigate to the photo you wish to edit. It's pretty intuitive and uses the iPhoto "events" and "faces" libraries. Since I don't use iPhoto I can't use the "faces" and the "events" libraries. I prefer using Lightroom and Photoshop on my Mac so … you gotta make choices and I choose this.
Only if I imported camera photos directly onto my iPad via the camera connection I can use the "events" library but that's just an iPad gimmick and not specific to Photogene. Despite the lack of iPhoto usage, navigation is pretty easy and intuitive.
When navigating through your photos it's possible to change the thumbnail size and select/export multiple photos. Export is also available when editing a single image and has enough (the most necessary) options. This shows that Photogene is a serious app for handling photos on the net or your own library.
You can manipulate your export size and export to the most common services like Facebook, Twitter, Flickr, Dropbox, your Photo Library and even FTP. Of course mailing a photo is available and to my surprise you can directly print a photo too (I assume via Airprint which sadly enough I don't have such a device but I expect that this will function quite nicely). Enough options for me, although I realize that there always will be critics that want some more options. Finally Photogene provides help, FAQ and information constantly by tapping on the apps logo.
Interface
When you select a photo you'll arrive in the editing interface. A clear and clean interface with no real hidden features. You get what you see and you see what you get, nice and easy. Double tapping and swiping with one or two fingers on/over your photo is common for the iPad photo app and is replicated by Photogene.
It feels familiar. I like to work in landscape mode but working in iPad portrait mode doesn't lose you any options in the menu, they're just positioned closer together.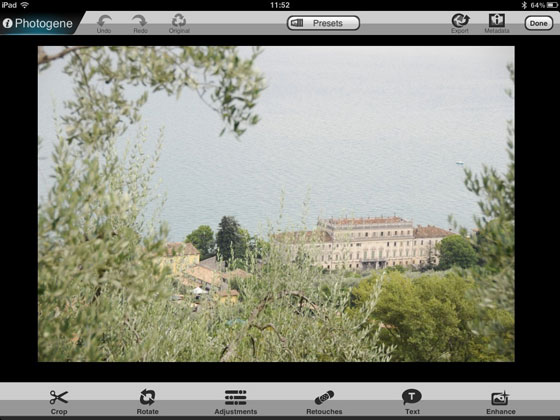 On top you'll find some presets, common edit functions like undo/redo and a full revert to your original photo, the already mentioned export options and finally a possibility to view and edit metadata. Photogene is my first app in which I can see metadata and …. well …. when you're used to work with Lightroom/Photoshop it's quite a disappointment. You'll see the color model, bit depth, DPI, file size, pixel height/width and …. ehh … nothing more.
I expect that Mobile Pond (the developer) will enhance this in the future because in this version the basic metadata is certainly not enough. As an enthusiast photographer I'm more interested in stuff like aperture and shuttertime values, lens type, etc.. On the other hand the IPTC possibilities are spot on. I can edit most common values I need and even store them as default settings or copy/paste them. Nice when you want to edit metadata for every photo you edit.
On the bottom menu you'll find primary image manipulation options like cropping, rotating, adjusting, retouching, enhancing and possibilities to add some text. Pretty much the usual stuff you normally do in Lightroom/Photoshop.
All in all I think the user interface is a joy to work with.
It doesn't have a high learning curve and if options are not clear enough Photogene will support you with small help texts which guide you through the process. On the other hand, when working with such an app it is to be expected that you know what you're doing and you're familiar with photo editing/retouching. But using it on the iPad makes it easier though.
Presets
To be honest, I'm not such a preset guy. I'm happy that there are presets but I don't use them often. Why? I don't know exactly, I just like to hassle around until I have the result I want to. Nevertheless, presets are wonderful for a quick result and can be very helpful when you have little time.
On top of the screen you find the presets button and this will open up a gallery of presets on the bottom. You can choose between several categories of presets and you can save your own.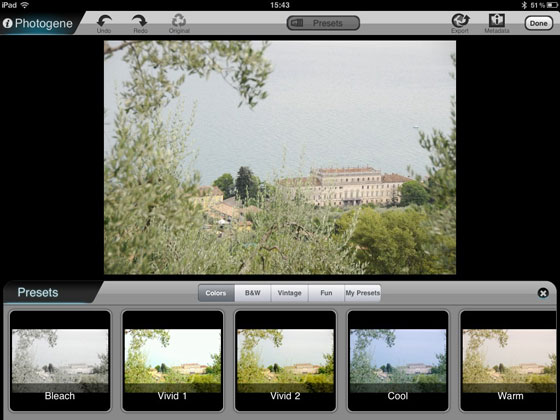 Categories are: color, black & white, vintage and fun. All together IMHO not too much presets and not very spectacular. If you ask me I would load this app with lots of presets and spectacular quick results but now it seems more like a last minute addition with a few samples. It's a pity because these libraries of presets could make or break an app. Another downside of these presets is that they can't be stacked.
I can chose one preset, this will be used, and if I chose another one then it "restarts" and applies the newly chosen preset again. It would be nice if I could stack presets on top of each other creating all kinds of effects (like the popular "100 cameras in 1" app).
Well …. maybe it's a matter of time and maybe Mobile Pond will provide a few extra in each update. Would be a nice idea though.
Cropping
Cropping is very nicely done. Photogene understands what you need as a photographer. The crop area is scalable manually or with the use of some default ratios. It's even possible to create your own ratio (only one) so in the end cropping to a specific format is easy.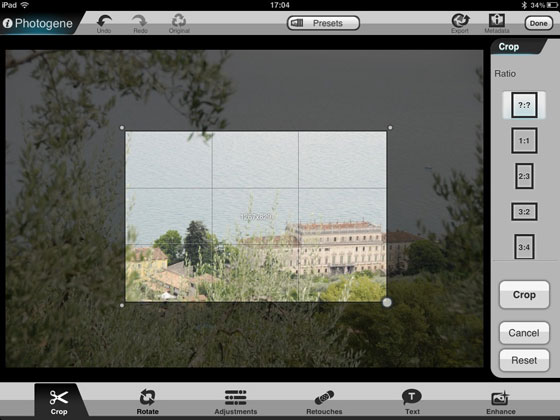 During crop area manipulation you'll see the very handy "rule of thirds" matrix and the pixel dimensions which helps you determining the composition and size you wish. Other than making it more luxury (like opacity of the cropped area when cropping or other help matrices during crop) I don't know what else I need for cropping.
Rotating
Rotate …. hmmm … I don't know what to think of that. Normally I would expect that you can rotate the photo with two fingers …. wrong. An angle slider lets you rotate the photo clockwise or counter clockwise and when you're finished it's rotated and (strangely enough) cropped into a horizontal rectangular area.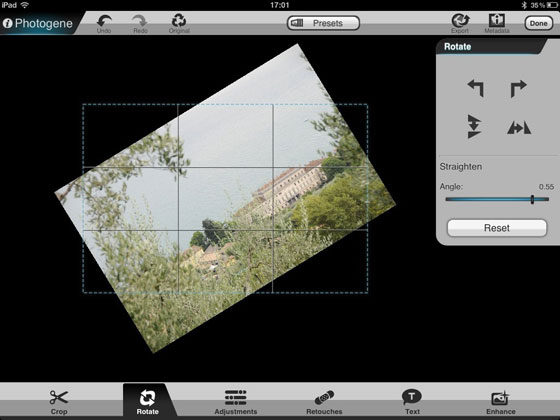 This rectangular area isn't adjustable and I can't move the image around to determine my own rotated crop. When trying this a few times and resetting the image each time the app stopped working and seem to be processing endlessly. Restarting the app again fixed it so I think it was just a little glitch.
Besides rotating with a slider there are also a few handy functions like rotating 90 degrees in each direction and flip the image horizontally or vertically. The smart guy who programmed the cropping functionality was also working shortly on this rotating thing because the very nice "rule of thirds" matrix was visible again. In the end i believe that this part could do some rework, it's certainly not the most smart part of the app.
Adjusting
Adjusting your photo is well supported in Photogene. One of the most extensive implementations I've seen so far. Well known adjustment categories as color corrections, sharpen/denoise, histogram, RGB and curves are present with enough options to alter your photo to your needs.
I haven't printed any photos adjusted with Photogene but on the iPad it looks very nice. And… since you probably won't use the photo's edited in Photogene for print this should be more than enough for iPad and web publishing.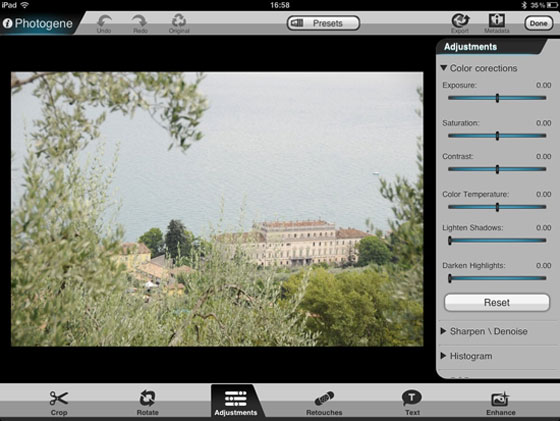 The adjustment options look somewhat like the ones in Lightroom so they're easy to work with. The adjustment numbers used with the sliders are not common, at least I can't relate them to values normally used. For example the exposure can be changed from -0.50 to +0.50 and color temperature isn't in degrees Kelvin.
This makes adjusting photos a thing of which you have to get used to. On the other hand, there are many options and variations possible so adjusting your photos is fun and there isn't much I can think of you can't do with it (for not to advanced editing of course).
And let's be honest, every serious photographer won't be post processing his photos using his iPad. It's merely a quick help for when you're on the go or want to show or publish some images somewhere on the net and then Photogene works very well. I think it will last a few iPad generations before we can use extensive processing power and can use grown up apps like Photoshop, Aperture or Lightroom.
Retouching
Retouching has a great potential, even when there are only a few options. The ones there are quite powerful, specially the "Heal/Clone" option. I just love to remove unwanted things from my photos to hide that I just stood in the wrong place while taking the picture or had no patience to wait while the unwanted object removed itself.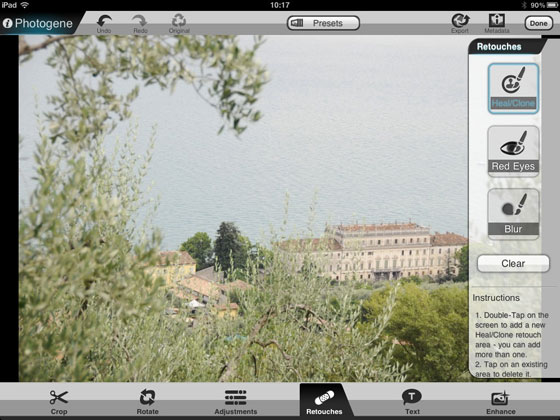 Besides healing and cloning you can remove the famous red eyes and blur some parts of your photo. Just double tap on an area and Photogene adds an area in which you can apply the retouche. It's nice that Photogene remembers the places where you did it so you can delete or change them later on if you'd like to. It has a similar approach like Lightroom does.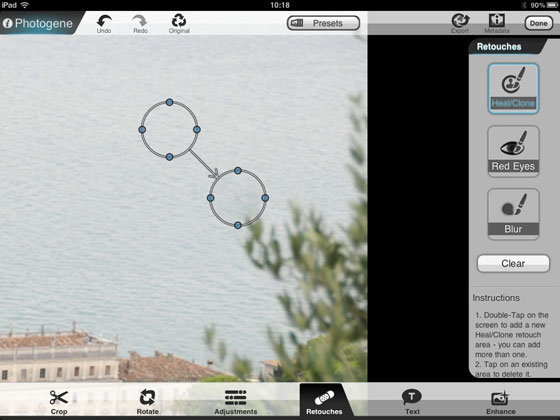 In the end I would say that retouching is nicely implemented but I'm dying to get some more. I hope Mobile Ponds update strategy will include additional retouching options.
Adding text
Adding text to a photo has always a lot of discussion IMHO. Either you like it or you don't. I think that presentation is very important and if text supports that, or make it more presentable, than adding text is very cool and can be very well done.
I admire people like Scott Kelby who can present a photo with some cool text very quickly and beautifully that even a not so cool shot looks very nice. I don't mean he makes bad photos and present them beautifully, hell no, who am I to say that. I just think that, besides other cool things he does, his presentation skills are awesome.
Ok, back to Photogene.
In Photogene it's not possible to recreate such presentation skills. Only text balloons are supported. You can play a bit with fill colors, border colors, text colors, fonts and alignment but in the end you just have a text balloon or a text area which you can position anywhere on your photo. It's nice that Photogene supports the copyright (©) symbol to make it easy for people who want to display some copyright annotations.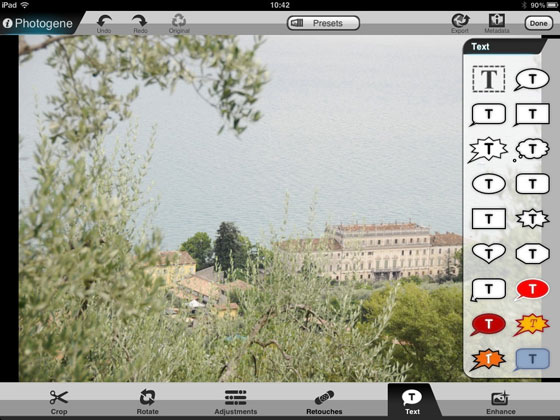 I think that Mobile Pond should rethink their implementation of text. As serious as Photogene looks the unserious adding text is implemented. This section gives me the feeling that I like to hand over my iPad to my youngest daughter and ask her to pimp up my Photo with nice text balloons. Rather than adding some professional text myself.
Enhancing
The last category of photographic changes in Photogene is enhancements. With these tools you can add some vignette, blur, gray areas, frames, outlines, glows, reflections or apply a filter.
Lots of stuff to play with. For some of these tools you can change the radius on the go or apply it manually, which I like more because it's more iPad-ish (it's nice to apply changes with your fingertips). Don't expect too much advanced features here but it's very nicely done.
This last category shows to me what kind of app Photogene is. It has a lot of potential, lots of beautiful options and tools and works great. But …. There is a big "but". In most situations you just don't have enough options. There are only a few frames, only oval selections for the gray area (and only one area), only a few filters (and you can only apply one), etc.. It's all very nice but you get the constant feeling of missing things (options, advance features, just more…more…more). There were occasions I thought this was a free app and the pro app would have more tools/content and more advanced options. Unfortunately this wasn't.
Conclusion
Despite the fact that Photogene offers a lot of functionality and is easy to work with I do miss a very important and handy function: Layers! Every serious photo manipulation app just has to have the possibility of using layers. In my opinion a serious miss.
Presets may come in very handy but unfortunately there aren't much default presets available. You can make your own presets though so don't worry about the number of defaults, just make em yourself. Cropping is very easy and very well implemented, just what a photographer needs.
On the other hand, rotating a photo is possible, works fine but could be implemented much better … well … okay … you can't win em all. Photogene hosts lots of adjusting options for color, contrast, histogram, curves, sharpening and even denoise. Pretty much the same kind of options you'll find in Lightroom or some other of the big brother applications on a Mac/PC.
The sliding numbers are a bit unusual at first but when you get acquainted with them it's fun to use. Retouching can be very powerful, Photogene has a few of them. Unfortunately only 3 retouching options are available (clone/heal, red eye removal and blur) which work quite nicely but … well … I just miss a few.
Adding text to your photos is possible but you'd be better of forgetting that option if you're a serious photographer. On the other hand, if you want to pimp up your photos or make some comic images you've got enough options to do so. The last thing you can do with Photogene is enhancing your photos with frames, vignette, reflection, blurs and apply a filter.
In the end I think that Photogene is a wonderful app and has a lot of potential. It could have been much more because in mostly every category you get the feeling of missing something. It stimulates your hunger for updates and more options. I hope Mobile Pond will give in to that because if they do I think this will be the iPad Photoshop killer, if they don't … well … then it's just one of the many iPad photo manipulation apps out there. At this time I would rate it with a 7 out of 10.
Buy Photogene on the Apps Store
By: Jeroen de Kort
web:www.jdekort.com
twitter:jeroendekort