Have you ever considered WordPress eCommerce photography themes as the solution for your website?
Photographers love to share their photographs with website visitors.  Make sense, right?  Photographers also want to sell their photographs to these visitors.  Also makes sense, right?
So why not combine the power of eCommerce with the styling of WordPress themes for photographers?
WordPress eCommerce Photography Themes
Below are 12 WordPress themes and plugin combinations to help you make money selling your photographs.  Although some of the themes listed here have eCommerce functionality, we think you will notice an interesting trend, which we will mention at the end of this article.
What's so great about the Photocrati theme, is that is not only the best WordPress theme for photographers, but also includes simple eCommerce functionality so you don't want to use additional plugins.
All-in-one website + galleries + blog.
Sell images with eCommerce galleries
PayPal payment
Dozens of styles, customize everything.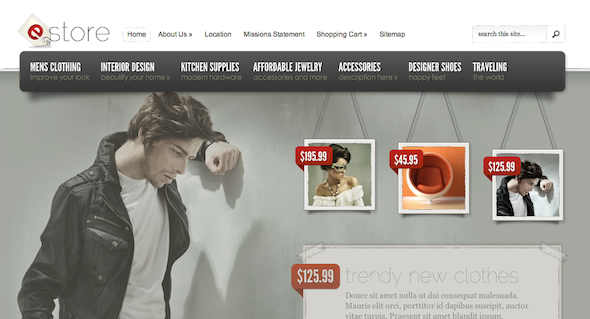 eStore is a flashy website that can help photographers to sell photographs or eBooks.  If you want to see a photography eBook website using this theme, check out Flatbooks.  It's not officially a WordPress photography theme, but can sure be used as one.
Elegant Themes Framework
Built-in eCommerce
PayPal Payment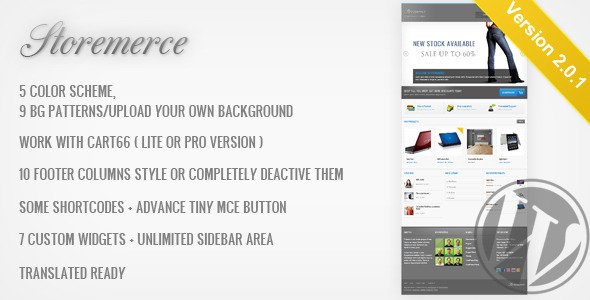 This is an interesting theme as it is built on using Cart66 for its eCommerce functionality, but has a nice business styling.
Cart66 plugin needed for eCommerce
Slider
Poduct Reviews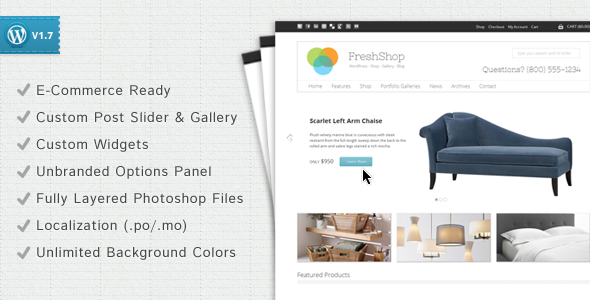 This theme uses custom post types for its portfolio section, and JigoShop for its eCommerce functionality.
E-Commerce Ready with Jigoshop
960 Grid System
HTML5 and CSS3
Social sharing
Custom Posts for Slider & Gallery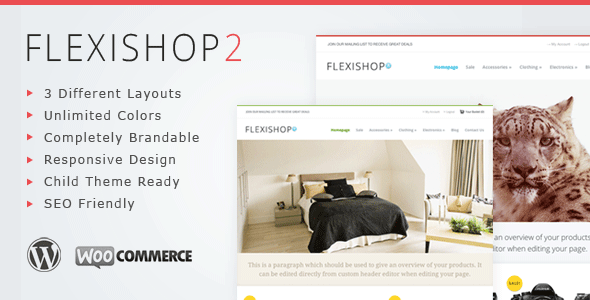 Bright and large are the best two words to describe this theme.  FlexShop 2 uses WooCommerce for it's eCommerce functionality.
WooCommerce plugin needed for eCommerce
Google Fonts
Responsive
Slider
Also built for WooCommerce, this theme incorporates custom post types of portfolios.
Responsive
Multiple Slideshows
Custom Post Types for Portfolios
WooCommerce plugin needed for eCommerce
Fullscreen is one of the most popular, you guessed it, full screen WordPress themes on the market.
WooCommerce plugin needed for eCommerce
Full Screen
Exif data display
Kinetico is a very interesting theme with it's vibrant and modern design.  While it isn't techniclaly a gallery theme, combine its WooCommerce functions with NextGEN Gallery and you can really have an impressive website.
WooCommerce plugin needed for eCommerce
Responsive
Slider

The Enfinity theme was designed to support both NextGEN Gallery and WooCommerce.  The layout is much different than any other eCommerce based theme out there.
Responsive
Sortable portfolios with infinite scrolling system
WooCommerce plugin needed for eCommerce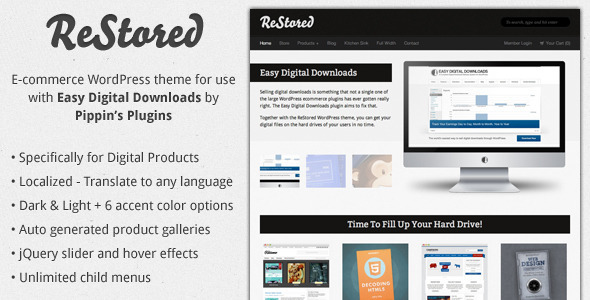 This theme is extremely interesting.  Like Kinetico, there is no built-in gallery but mixed with NextGEN Gallery – it could work well for so many.
ReStored was based on this theme.  The main difference is that Stored uses Cart66 for its eCommerce integration.
Affiliate function
Sliders
Cart66 integration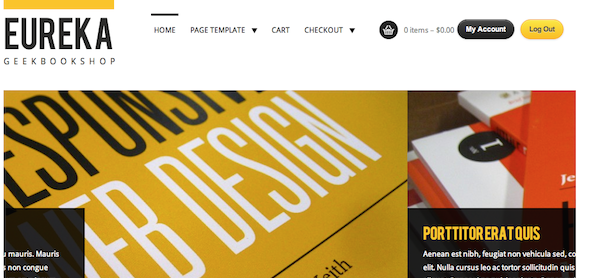 Last but not least, this theme has a beautiful home page slider, and works with multiple eCommerce frameworks.  This is another that NextGEN Gallery would be a great addition to.
Responsive
Worked with WP E-Commerce, JigoShop and WooCommerce
Product Reviews
WordPress eCommerce Trend
The majority of eCommerce themes do not rely on their own functionality.  In fact, the popular ones are Cart66, WP e-Commerce, JigoShop, Easy Digital Downloads and WooCommerce.  The clear winner of third-party eCommerce support is WooCommerce.
Show Off Yours
Are you using a WordPress theme with eCommerce built-in?   Comment below to share yours.
Thanks for reading
WooCommerce