My Olympus E-PL2 is my go to camera of choice and I'm unlikely to upgrade any time soon. There are 3 main reasons why I choose to shoot a Micro 4/3 over a full-sized DSLR.
1. Street Shooting
When I pull out this little white camera with its flowery vintage strap no one pays attention, which is exactly how I want to take my street shots. Never mind if I've got a beast of a full-size telephoto lens on the front, people just don't take it seriously. Which allows me to get down to the serious business of taking unobtrusive street shots anywhere I go. It's an important ingredient in capturing the spontaneity of the city and I don't think I could do it nearly as well if I had a larger, more 'official' looking camera hanging around my neck.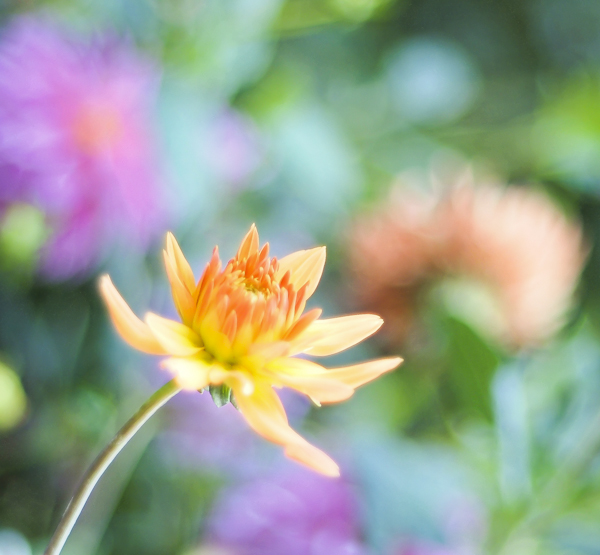 2. Manual Lenses
My go to lens is a Canon FD 50mm f/1.4 lens that helps me create the luminous, soft photos I see in my head. I have piles of manual lenses that I use on my E-PL and they all get me closer to the vision in my head than my digital lenses do. That's not to say that I never use digital lenses, I do, but nothing compares to using a manual lens on the Micro 4/3.
I have more control over what I'm creating and it's the perfect blend of old school & new technology. Photos using manual lenses come out looking a lot more like a film shot than a digital shot, but you have all the convenience of the speed of digital. For this reason alone, I'll probably never switch my kit over from a Micro 4/3. You get the beauty of manual lenses with the instantaneousness of digital. For me, it's the perfect, long sought after combination.
3. Handheld Shooting
I haven't used other Micro 4/3 so I'm not quite sure how they compare, but this was a big selling feature for me when looking at the Olympus E-PL2. The in camera image stabilization (anti-shake) is so good that I can handhold it for up to a 2 second exposure and get a very decent shot in low light. (It also helps that the camera isn't very heavy.) It will never be quite as sharp as shooting with a tripod, but it's pretty darn close. Which ups the convenience factor and the utility of the camera for me. I almost never carry a tri-pod and I'm more likely to pull my camera out and use it than if I had to lug additional gear around.
There are a number of other advantages to shooting with a Micro 4/3 like size, weight and my E-PL2 worked like a charm last year at South Pole Station in -60F weather. Reasons enough for me to keep this charming little beauty as the mainstay of my digital photography kit.
–
Andrea Dixon is a mixed media artist and photographer based in Denver, Colorado but works in Antarctica for 4 months every year.