Below I am going to go over the best website hosting options for photographers.  In each, I will discuss the four crucial elements mentioned above.  I will also separate the beginners hosting from the advanced hosting.
As you go through the list, it is also important to understand the different types of hosting levels.
Basic Options
Basic options meet the needs of 80% of photographers. The two main recommendations are Bluehost and Dreamhost.  Typically a basic option is shared Hosting, or multiple customers on one server/computer.
SiteGround
SiteGround is our personal favorite for photographers.  Here are some of the great features of the hosting platform.
Unlimited Domain Hosting
Unlimited GB Hosting Space
Unlimited GB File Transfer
Unlimited E-mail Accounts
Free Domain
Secure Shell, SSL, FTP, Stats
24/7 Phone, Chat & Email Support
Reliability:  Bluehost has a shared hosting platform.  So if another website on the server has a problem, the unexpected can happen.
Speed/Performance: Bluehost's speed can also be compared to Dreamhost's (below) as they both have shared hosting.
Compatibility: Bluehost includes a set of one-click installs, including WordPress.
Price: SiteGround plans start at $3.95 a month, which is an extremely generous price for a photographer setting up their website for the first time.
Advanced Options
Advanced Options are for photographers who have needs outside the norm like faster speed, more storage, expandable, high traffic, etc.  When it comes to these hosting companies, you have choices between:
VPS (Virtual Private Server) – Although running (via software) on the same physical computer as other customer, it is equivalent to a separate physical computer based on the customer's need.
Private Server (Dedicated Hosting) – A customer with its own server/computer
Cloud Hosting – Think Apple iCloud or Google Drive but for your website and many other customer's websites.  It's basically a large group of servers/computers that get dynamically scaled based on usage, and mapped to an identical set of machines in other locations.
For any of these, one thing to keep in mind is that installing and managing a site may be much more complicated than with the basic options, so they're only for people with more advanced technical skills. For example, in a solution like this (without one click installs), it is more effort and time consuming to set up WordPress and the necessary database needed for it.  These are often referred to as managed hosting, as the user has to manage the server on their own, but the hosting companies takes care of making sure your website stays live.
Rackspace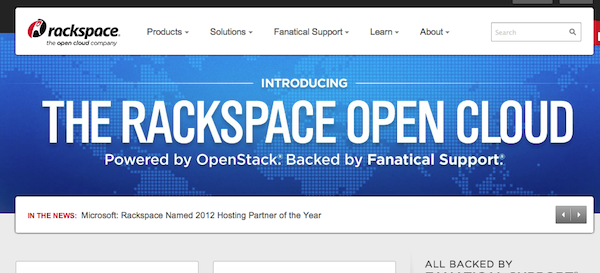 Rackspace is one of the leading hosting providers.  They host major websites for some of the largest companies in the world, like; Under Armour, Mazda and Domino's Pizza.  They also host one of the most popular creative websites,  Behance.  Rackspace can host the smallest of websites and the biggest.  Because the hosting is cloud based, pricing can add up, as it is based on space and bandwidth.
Unlimited Storage (pay as you go)
Unlimited Bandwidth (pay as you go)
24/7 technical support
FTP Access
100% Uptime Guarantee
Reliability:  Rackspace is known for this.  If a website has a problem, they're on top of it.
Speed/Performance: Being that they host some of the biggest brands in the world, they know how important uptime and speed is.  The Rackspace cloud platform is optimized for speed and durability.
Compatibility: Each Rackspace hosting option is compatible with WordPress, so no problems there!
Price: Because Rackspace is scalable, pricing can start around $10 a month and up.
MediaTemple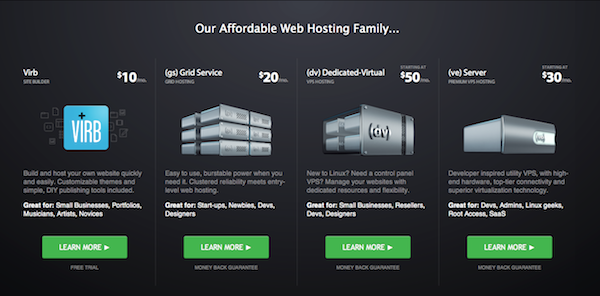 MediaTemple is the trusted host for brands like Samsung, Sony, Dribble, Adobe and so many others.  Like Dreamhost and Bluehost, MediaTemple has a shared hosting option but also VPS and dedicated solutions.
24/7 technical support
Top tier data centers
Multiple hosting options
Affordable
Reliability:  MediaTemple has been around since the 90's and as I mentioned, is a trusted hosting provider by some of the top brands in the world.
Speed/Performance: There is a shared hosting option that is suitable for most photographers, but also advanced solutions for those who need more performance.
Compatibility: Every MediaTemple hosting option is compatible with WordPress and other content management systems/
Price: The shared hosting option from MediaTemple starts at $10 and then VPS at $30.
Synthesis
Synthesis is the new kid on the block and is a powerful solution similar to WP Engine.  If you host with Synthesis you have two options: WordPress or WordPress using a Genesis child theme by StudioPress.
WordPress hosting
Migration services (not included)
Security by Sucuri
Unofficial 100% uptime promise
Reliability:  Similar to WP Engine, Synthesis runs on the cloud offering customers a VPS for durability.
Speed/Performance: Websites on Synthesis run extremely fast due to the optimization specifically for WordPress.
Compatibility: With Synthesis, you can only run a WordPress site.
Price: The lowest plan is $27 a month and goes up to $300 for users needing a lot more hosted domains, etc.
WP Engine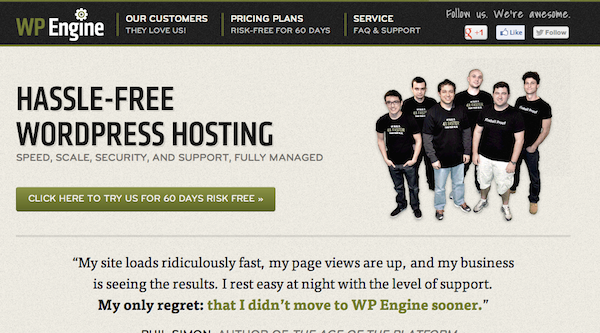 WP Engine is the most popular hosting solution for photographers needing more than just shared hosting, or want a solution designed specifically for WordPress and nothing else.
WordPress hosting
Free website fix if hacked
Curated plugins
Curated themes
Free host migration
Backups
Scalable cloud hosting
Some of the brands using WP Engine that you may recognize are; FourSquare, SoundCloud and WooThemes.
Reliability:  WP Engine has an unofficial 100% uptime promise.  I have personally never (ever) hard of a WP Engine website going down.
Speed/Performance: Being that WP Engine is designed specifically for WordPress, they have taken every measure to insure speed for every customer.
Compatibility: It is important to note that WP Engine only hosts WordPres websites.  That means you can't run any other content management system with them.
Price: Pricing starts at $29 a month, which is fairly reasonable considering.
LiquidWeb
LiquidWeb has a wide range of hosting levels to choose from.  Everything form shared hosting, to VPS hosting, to cloud and dedicated servers.  You name it, they have it.  In addition, they're completely scalable so you can upgrade anytime.
24/7 technical support
CPanel + Fantastico Auto Installer
5GB RAID Protected Disk Space (Starting)
120GB Premium Multi-Homed Bandwidth (Starting)
5 sub domains (Starting)
Unlimited email accounts
Unlimited MySQL databases
Reliability:  Depending on the hosting level you pick and the traffic your website receives, with LiquidWeb you will have 99.9% uptime.
Speed/Performance: If you grow beyond shared hosting, move up to a VPS and gain drastic speed improvements of your website.
Compatibility: 100% compatible with WordPress in addition to thousands of other applications, including the many one-click installs.
Price: Pricing starts at $14.95 a month, and increases depending on the hosting style.
VPS.net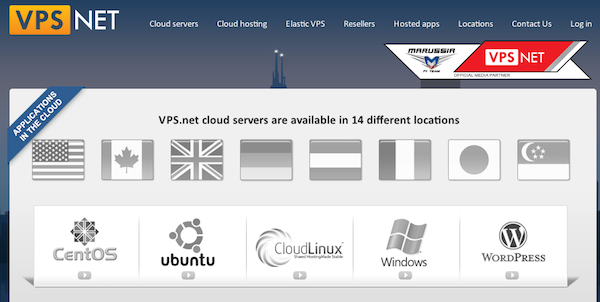 VPS.net is an underdog in the hosting space. They provide VPS and cloud hosting plans, all with a lot of options for operating systems and software.
24×7 Support
Fully Automated Support (interesting development)
Fancy GUI for user experience
Self healing hardware
Scalable
Reliability:  Like other VPS and cloud hosting, the uptime is unofficially guaranteed.  If you out grow your hosting level, you can easily upgrade with a user friendly slider.
Speed/Performance: A website hosting with VPS.net is extremely fast.  In fact, one of the top WordPress developers, Yoast, hosts with VPS.net
Compatibility: The options are endless with VPS.net although they do specialize in WordPress hosting.
Price: Hosting started at $20 for a site receiving around 25,000 visits a month.
In Conclusion
In this article, we went over the various types of hosting available to photographers.
We discussed the basic shared hosting options from Bluehost and Dreamhost.  Also the more advanced options from Rackspace, MediaTemple, VPS.net and LiquidWeb,  We also included WordPress specific hosting solutions from WP Engine and Synthesis.
At the end of the day, the right host to choose is the one that works best for your business.  As mentioned previously, 80% of photographers use Bluehost.  Vist the websites of each hosting provider and contact them with questions before making a final decision.
Thanks for reading.