I generally enjoy books on the work of different photographers but having received a DVD documentary on the work of Annie Leibovitz I was excited to study such an epic still photographer through the medium of moving image.
I am deliberately avoiding commenting on the legal battle Leibovitz faces as it is irrelevant in the celebration on her work. The one hour twenty documentary covering the life and work of the iconic American photographer was directed by her sister, Barbara Leibovitz in 2006.
Almost as famous as the people she photographs, Annie Leibovitz is one of America s most celebrated portrait photographers, capturing her subjects from Demi Moore and Nicole Kidman to the George W Bush cabinet with often theatrical or provocative imagination, her work regularly adorning the covers of Rolling Stone, Vanity Fair and the New Yorker since the early 1980s.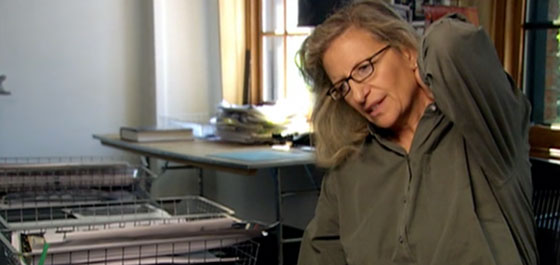 Personally speaking I found this DVD considerably more inspirational and informative than reading a book. The documentary is insightful it offers a depth not communicated by looking at a photographic outcome and reading an explanation.
It is interesting to see the dynamic between the photographer and the subject, who in main were massive celebrities that appeared shadowed by their photographer.
The behind the scenes aspects of each shoot are insightful and the outcomes are breath taking. Annie Liebovitz is deemed unique throughout, hours or setup and she is able to capture the epic photograph in ten minutes.
There is a message for every photographer in the documentary on ruthless self-editing through to composition and working with the simplest of equipment Annie demonstrates craft over technology.
To date Annie's own life has been private and protected, but this documentary feature follows her career of more than 30 years, reflecting on the influence her  personal life had in her photography from dealing with drugs through to her relationship with partner Susan Sontag.
The documentary features interviews with Graydon Carter, Rosanne Cash, Hillary Rodham Clinton,Whoopi Goldberg, Mick Jagger, Keith Richards, Yoko Ono and Arnold Schwarzenegger, Gloria Steinem and Anna Wintour. It is utterly remarkable just how well respected one photographer can be in the world of celebrity.
If there was ever 90mins that documents the aspirations of photographers around the world it has to be this documentary.
The DVD is available at around £10 and is definitely worth adding to your library.