The Power of Black & White in Adobe Lightroom & Beyond (A Masterclass) by Piet Van den Eynde is an exceptional course on creating black and white photographs in Adobe Lightroom. For the emerging photographer, digital black and white seems like it's simply a mouse-click away but the process to create exceptional monochrome images requires a systematic and knowledgeable approach to colour conversion and post-production editing.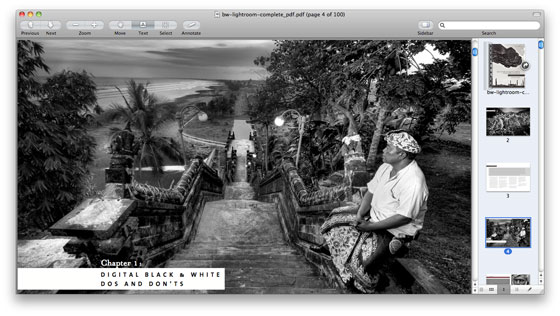 Taught by a talented educator, it's all there: the detailed explanations, step-by-step instructions, screenshots, and case studies in this groundbreaking ebook will unpack the workflow needed to make beautiful black and white photographs.
Thorough notes on the tools, plug-ins, brushes, and even HDR techniques will provide the resources you need to produce powerful and captivating images. Piet Van den Eynde pulls out all the stops, bringing to Craft & Vision its largest-ever ebook and first Masterclass publication.
Limited Special Offer
Special Offer on PDFs: For the first five days only, if you use the promotional code BWLIGHT4 when you checkout, you can have the PDF version of The Power of Black & White in Adobe Lightroom & Beyond (A MASTER CLASS) for only $4 OR use the code BWLIGHT20 to get 20% off when you buy 5 or more PDF ebooks from the Craft & Vision collection. These codes expire at 11:59pm PST April 16, 2011.