I have owned a flash basically since I have owned a digital SLR camera but it is one area of photography that be a challenge to many. Considering the flash as just another light source is one thing but how many times have you ended up with photos that are either heavily over or under-exposed.
Flash may be just another light source, but it differs in one important way from ambient light, and that's in the duration: a flash happens momentaneously, whereas ambient light is continuous.
'Making Light' seeks to explain the myths and challenges of using both on camera and off camera flash systems. The book is aimed at all of us out there who own a flash unit but haven't mastered how to use it properly.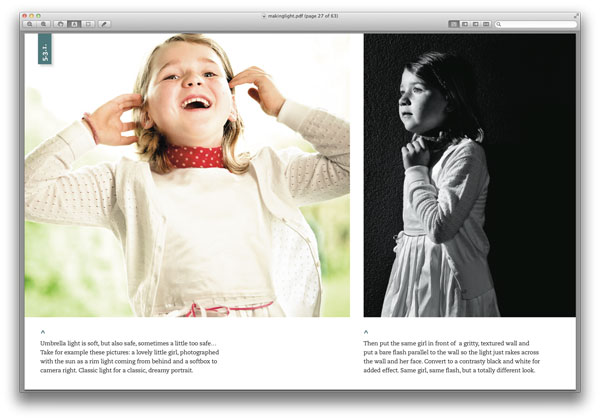 This 62 page ebook will take you from zero to hero quite literally. Starting with on camera flash the book confidently takes you through growing your lighting setup through to using remote triggers.
After the introductory chapters, there is a few chapters on suggested gear that should satisfy even the biggest of camera geeks. Recession friendly the eBook sticks to the basics, both in terms of triggers and in terms of modifiers.
A suggested USD $250 could have you kitted out with a basic yet quality off-camera flash set. And that includes a flash!
The book covers gels unbrellas and explains the benefits of TTL and manual flash control. This is a book I will revisit again and again, I have bought a number of books in lighting but all have failed to really explain the basics as well as this $8 ebook.
One of the best aspects of the book are the case studies in chapter 9. They were all taken with just one flash off-camera and they are stunning. No longer should you think of a flash as an indoor lighting tool the case studies show the value offered by a flash in a range of different locations and situations.
Download the eBook Now for only $8