I always get excited when Craft and Vision announce the next release in their ebook series. Nowhere else will you get so much inspiration and learning for $5. They are stunning books. Winter in the Canadian Rockies by Darwin Wiggett is the newest ebook to the range and the very latest in the Print & Process series.
Darwin captures the spirit of Canada's most striking mountain range in this monograph of breath-taking landscapes. Photographers of all levels, and geographic persuasion, will find inspiration and insight in this beautiful body of work, and the accompanying discussions, that spans nearly 3 decades.

Darwin discusses in detail the joys and difficulties of working in the cold to capture the abstract and artistic beauty of this magical place. What could be better during these winter months than a great photographer and teacher like Darwin sharing his warm fondness for the coolness of winter?
The eBook features dozens of literally breath taking photographs and as well as being a source of inspiration Darwin addresses all the various levels of preparation for shooting in such extreme weather conditions. From the various layers of clothing to looking after your camera in sub-zero temperatures this book enables the avid winter photographer focus on their craft.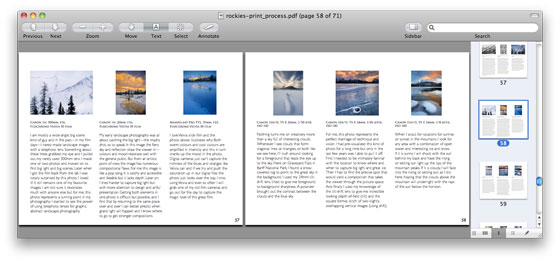 From a photography educational point of view Darwin outlines technical subtext and settings for capturing each of the stunning photos in the eBook. In addition he addresses technique, the science of winter lighting and outlines a number of areas that offer photographic expression in the winter setting.
Winter in the Canadian Rockies – Print & Process is available now as a downloadable PDF for just $5USD.
Special Offer on PDFs
For the first five days only, if you use the promotional code ROCKIES4 when you checkout, you can have the PDF version of Winter in the Canadian Rockies for only $4 OR use the code ROCKIES20 to get 20% off when you buy 5 or more PDF ebooks from the Craft & Vision collection. These codes expire at 11:59pm PST January 22nd, 2011.