Street Photography for the Purist is a free 160 page ebook on the art of street photography. Written by Chris Weeks, a professional photographer living in Los Angeles who has made his remarkable insight into street photography available on deviantart.
The ebook was first written and published in 2006 but the information is as relevant and inspiration now as it was then.
All the work in the book is in black and white and it serves as much as a source creative ideas as a training manual describing the art of street photography both as remarkably easy as well as incredibly difficult.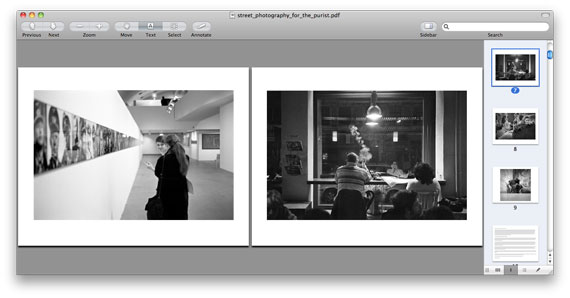 The book features contributions by photographers such as :  Severin Koller, Michael Kaiser, Matthew Craig, Rainer Pawellek, Deborah Delasio, Errol Lyons-Rainey, Darren Abate, Massimiliano Mortillaro, Bernhard Wolf.
Download
You can download the eBook via Deviant Art