As the author of the hugely successful "The Magic of Black and White" series Andrew S Gibson is no stranger to photographer writing.
The Andes is Andrew's latest photography journal, this is a evocative and inspirational look at a journey through the Andes, the photos in this eBook cover a period of change in Andrews life and photographic journey.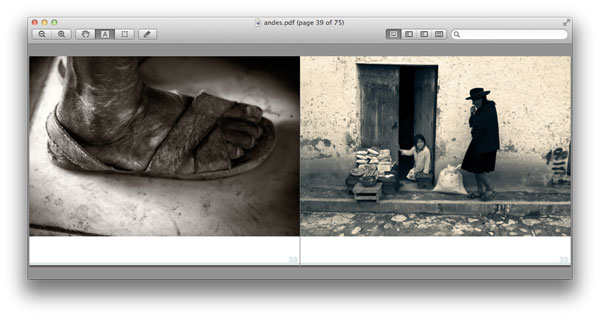 The first set of photos are taken on film cameras, and the last on digital SLRs, as the author made the transition from film to digital.
I want to inspire people. Travel for many people is an unrealised dream. Things like the business of making a living, relationships and other constraints on finances and time can prevent people from turning dreams into reality.
The first 46 pages of the book are packed with some of the most inspirational black and white images I have seen. Andrew then offers his fellow photographers an inspirational and educational view of his experiences.
There is a substantial amount of reading in this book and you can be sure to learn as much about the Andes and Andrew's personal experience as you will about photography and going digital. In many ways the book is as close to being there as many of us will get.
One of my favourite aspects of the publication is a series of photos with specific explanations. The author explains both the camera, lens and settings used as well as insight into both the experience and location.

For all you gear junkies out there you will be interested to note that the digital shots were taking on a 350D and 40D reiterating again the importance of creativity and craft over owning the best cameras and lenses.
I have a large number of photography ebooks on my digital devices and I keep returning to them again and again for inspiration. The Andes is a 75 page treasure trove of such inspiration. At only $5 it is the best thing you could buy today.
Download Now Checkout our other book reviews here.
Special Offer on PDFs
For the first five days only, if you use the promotional code ANDES4 when you checkout, you can have the PDF version of ANDES, The Print & The Process Series for only $4 OR use the code ANDES20 to get 20% off when you buy 5 or more PDF ebooks from the Craft & Vision collection. These codes expire at 11:59pm PST August 6th, 2011.