I am a massive fan of the Craft and Vision E-Books (See our previous reviews here). They arrive and immediately make their way into iBooks on the iPad ready for ingestion at every opportunity. The learning journey is one of the best aspects of the photographic journey and the Craft and Vision series oozes learning.
The Evocative Image is the latest eBook by Andrew Gibson and it challenges photographers to stretch their work and look at scenes differently. Using stunning examples Andrew demonstrates how a single view can offer five completely different photographs.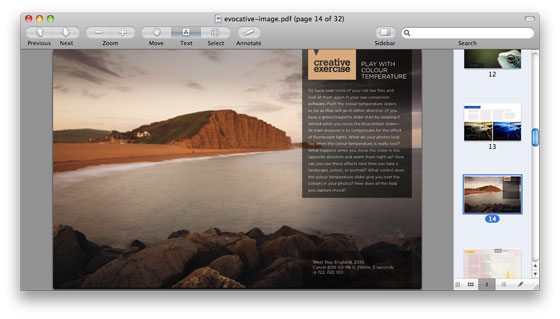 Andrew looks at how different times of the day offer different opportunities. Each photographic example includes meta information and to his credit he uses a range of cameras demonstrating skill over gear.
Gibson challenges us to look at the 'golden hour', the 'blue hour' and how to stretch ourselves in low light photography settings. The ebook is a fresh motivation to improve, just when you think you have mastered one photo area this ebook offers new ways to stretch.
Embracing Noise
I have often wondered why cameras run to such high ISO settings and generally strive so obtain the lowest ISO setting I can on each shoot. This ebook challenges that concept and encourages the user of higher ISO settings and 'embrace noise'. The examples are stunning, every image is inspirational even without the relating dialogue.
Creative Exercises
There are days when I lift my camera to hunt for things to shoot. This eBook comes with a series of creative exercises from using wide apertures through to working with backgrounds. The book is inspirational, challenging and creative. At only $5 it is the cheapest creative injection that will help you massively improve your craft. Buy your copy here.
Special Offer on PDFs
For the first five days only, if you use the promotional code EVOCATIVE4 when you checkout, you can have the PDF version of The Evocative Image for only $4 OR use the code EVOCATIVE20 to get 20% off when you buy 5 or more PDF ebooks from the Craft & Vision collection. These codes expire at 11:59pm PST February 28, 2011.