If you're ready to take your photography business to the next level and want to increase profits, you might think the only way to get it done is to increase your prices. If you've been working at amateur prices as a pro, then, yes, you may need to raise your prices a little. But increasing prices is certainly not the only way to boost your income from your small photography business.
One study cited in Professional Photographer magazine found that the average net profit from a home studio photographer keeps less than 35% of photography profits, and that the owner of a high-performing home studio makes about $81,000 per year, which is about 40% of their total business income. If you're not close to that point, what can you do to increase profits without charging your customers too much?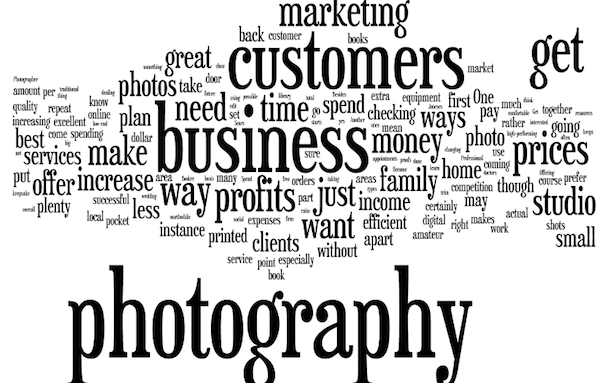 Become more efficient
The first thing you can do is to take an overall survey of your business. Figure out where money is going out, and where money is coming in. Then, make a plan for how you can spend less money. How can you market more efficiently? Be more efficient with your props and equipment? Spend less money or time developing photos?
One of the best ways to spend less in your photography business is to go digital. Even though you'll need to upgrade your equipment more often, the ability to take thousands of photos without using any film gives you a big leg up on the market. Plus, if you're a small home studio, you can afford to edit your own photos before sending them off elsewhere to be printed – rather than printing them on your own at home.
Besides just going digital, though, there are plenty of other ways to be more efficient in your business spending. But the first step is to understand exactly what you're spending money on, and then to experiment with different ways to trim expenses. Every dollar that you save on business expenses is a dollar that goes back into your pocket!
Hone in your marketing plan to get more clients
Another way to increase profits is, of course, to book more clients. While you don't want to over-book yourself, if you're not getting the amount of work you want to, you won't have the income that you want.
If you have a photography specialty – family, maternity, business, etc. – you'll need to know your ideal target clients and find ways to get those customers in the door. It all starts with having an actual marketing plan, and you'll want to implement a plan to get as many customers in the door as possible – especially when you're first starting out or are trying to grow your business.
The great part is that you don't need to pay a fortune for some marketing firm to do all this for you. You can learn a lot just by checking out the right online resources and even by checking out marketing books from the library. Make it a point to read one small business marketing book per month, and spend time implementing the suggestions that these books make.
Of course, the best way to get more profits from your photography business is to hone in on marketing techniques that are cheap or free. A great website and blog that gets traffic from social media marketing efforts is certainly a good place to start, but there are plenty of other affordable ways to promote your business, as well.
Offer excellent service to get repeat customers
Repeat customers are a great basis for any successful photography business, especially if you're dealing with family photography. The best way to keep customers coming back is to provide excellent service every time. Be on time for appointments, and come prepared with plenty of ideas for a photo shoot. Get proofs back when you say you will, and go above and beyond the call of duty to make your customers happy.
The great part about encouraging repeat customers is that you can get to know what your customers want. The Booker family may prefer candid, fun, quirky photos outdoors, while the Joneses may prefer more traditional photography with plain backdrops. Understanding what each customer wants helps you get the right shots more quickly, which cuts down on the amount of time you need to spend on that customer in the future.
Set yourself apart from the competition, and get larger orders
The best way to make your photography studio successful is to make sure that you come across as something special. You need to set yourself apart from the competition. Show customers through your offerings and the quality of your work why it's worthwhile to pay more for your services instead of just going to some Sears photography studio for family pictures.
One way to set yourself apart is to offer extra services. They won't necessarily up the costs of your regular services, but they'll mean that you get bigger orders, which put more money in your pocket. Many professional photographers, for instance, will show customers their quality by mounting all the photographs they sell, which makes the photos a keepsake rather than just a piece of paper with a photo printed on.
Offering extra photo products can be great, too. For instance, you could offer to put together printed photo albums for customers – such as the ones you can buy online. Just taking the time to put together the actual album is too much for some customers, but many will happily pay you to do it for them!
Check out other areas of photography
If you're interested, you can also expand your horizons and income by checking out other photography areas. For instance, team up with small local businesses to offer product photography for websites and catalogues, or offer business photography and head shots for local doctors and attorneys. Find out what the demand for these types of services is in your area, and use your skills to offer more than just wedding, family, and baby photography from your studio or on site.
Increasing your photography profits doesn't have to mean increasing your prices, though you should definitely make sure you're not on the low-end of prices in your area – which just tells potential clients that you're an amateur. But if you're already comfortable with your photography pricing, use these options to increase your profits without raising prices more.
–
Article written by Daniela at CreditDonkey, who provides tips on running your small business.