I have been using Google+ for a few days now and I have to say I am really loving it. Google+ actually handles photos better than other social network sharing sites I have used with the images being presented in large format enabling casual users to view the photos in all their glory even in thumbnail form.
When you sign up to Google+ make sure your photographs are part of your profile (for some reason mine were not by default). You can also allow Google to reference any geotag information available for each image. Go to Profile and Edit, click on the Photos tab and make sure the appropriate box is ticked.

Google+ handles galleries really well. Roll your mouse over a set and it reveals the contents in an almost Apple like fashion. As you can see the thumbnails are large enough to give a good idea of the contents.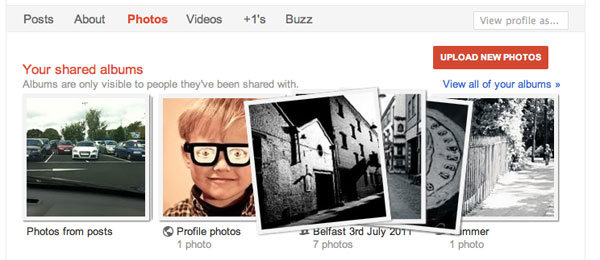 Click on the gallery to view a large tile like view of the photos it contains. When you click to view an image the result is spectacular. A large version of the image on black that almost fills the screen is perfect for the photographer promoting their work.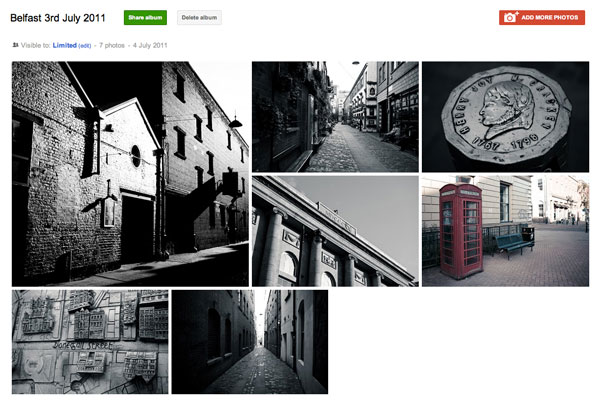 When you go to photo details, you can see Exif data, a map for geo tagged photos, and a histogram for the shot. It looks very similar to iPhoto.
Like other social networks you can tag images with other Google+ members. It is early days but so far I am particularly impressed with Google+ I did make the mistake of replying to posts from high profile photographers with the result of 60 emails in around a five minute window but posts can be easily muted.
Anyway, if you are a photographer on Google+ please post the address of your profile on the comments and we can share circles. We are here: http://ow.ly/8ITgS
*Now Google+ is open we have moved the thread of Google+ users to here http://www.flickr.com/groups/sevenbyfive/discuss/72157627177887850/ make sure to add your address.