If you told me a year ago that I'd be making camera straps, I'd have asked you what the weather was like in Fantasy Land. However, here I am making camera straps. It's been a crazy ride to transform a weekend project into a brand. It still amazes me just how far this has come.
It all started out with a new camera. I had just bought a Fuji X-T1 and was in the process of moving accessories from my Nikon D700 to the new kit. This led to some Instagram photos of my new X-T1 sporting a rather bulky camera strap. I started to look around the Internet for a better fitting strap. It was at this time that a friend linked me a small rope like strap. I liked the design, a lot. I was mere moments away from buying it until it dawned on me that I could probably make something similar.
I began doing research on how to splice an eyelet into three strand rope. This splice is fairly common in the boating and off-roading worlds, so there are plenty of YouTube videos to watch on repeat. Over the course of one Saturday afternoon, I made my first camera strap out of nylon rope and some anchor shackles I bought from the local hardware store. Pleased with my handy work, I posted a photo of my finished project to Instagram and had myself a beer.
What happened next set a firestorm into motion. I began getting comments on my crude strap. People liked it. I started getting asked if I could make a strap for friends. At this point, I realized that I should probably spruce up my work if I was going to make a few of these for friends. I would spend the next week working on my splicing technique. After who knows how many hours of testing, tweaking, and modifying, I was finally ready to make a few straps for friends.
As I kept posting what I was doing to various social media outlets, interest kept rising. I began dying my own nylon. I started hunting for better hardware. I was testing various nylon ropes on how well they would dye and how comfortable they were after the dye process. I was in the humble stages of making a brand.
I eventually took on 10 beta testers. I shipped them my test straps built to their desires. Feedback was almost instantly positive. The straps were sturdy. The hardware a bit overkill. Most importantly, the straps were comfortable. There were some criticisms that I took to heart and started working on solutions for.
During this process, I kept getting asked if I could do two or three colors. I began researching how to make my own nylon rope. I played with splicing two or three different ropes together. Yet, nothing was yielding the results I was really wanting. That is when paracord bracelets somehow crept into the dark corners of my mind. Then, one Sunday morning I ran off to the hardware store and bought two bundles of parachute cord, came home, fired up YouTube and began learning how to make bracelets.
As I worked on my weaving skills, I would post stuff to Instagram. Just as before, the interest came in and spurred me forward. I began working on different weaves. I had to learn how to take something that was designed for a bracelet and modify it for use as a camera strap. I mean let's face it, a bracelet breaking is one thing, but a camera strap failing is terrifying. This new strap needed to be strong, safe, and comfortable. The challenge was real.
Time strolled along and I began testing different cord options. I started emailing and talking to companies to learn about them and their options. I was also working to finalize my hardware selections and find a company for that as well. When these pieces all started coming together, I realized I had kept my suppliers all in the United States. I'm proud to say I still keep all my suppliers in the U.S., and that will hopefully not change as I move along.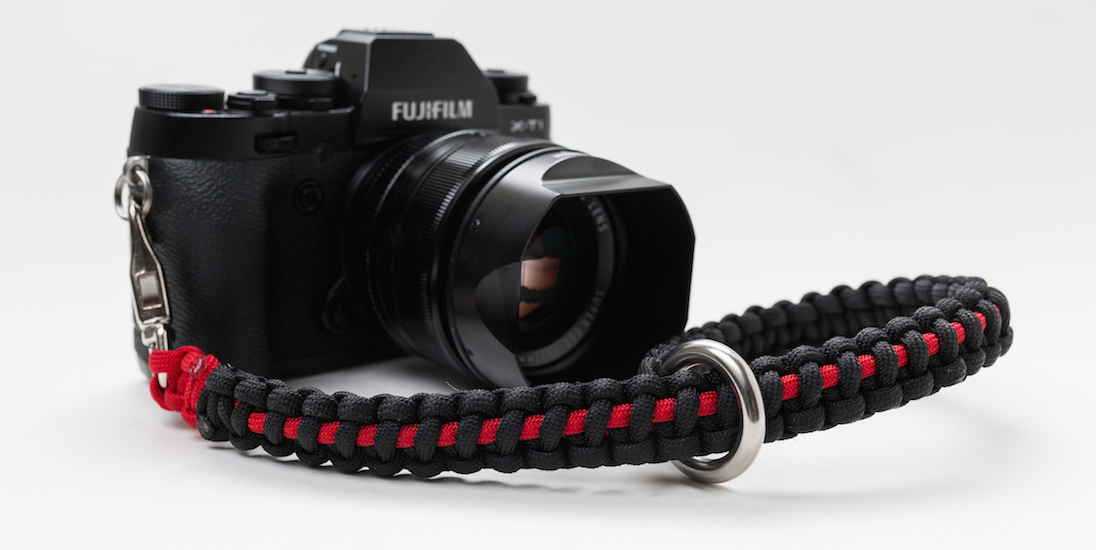 After an unfortunate accident with a dye bath that turned my home into a massive collection of red speckles, I stopped working on the nylon rope strap (V1) and concentrated on the parachute cord (V2) straps. There was a lot more interest in those anyways. I sent V2 straps off to the beta test crew and awaited feedback, of which they kindly provided. They like these straps more!
More testing and tweaking went on until I finally had something I could start to share with the world. I launched a website. I started taking orders. I had made a brand. Feedback continues to be positive. I started out wanting to make something that was highly customizable. I wanted to provide options so that customers could make a strap that was unique to them. I have succeeded!
However, I'm not done yet. I continue to tweak and fine tune my camera straps. I am working on new weaves. I am always looking for new and unique hardware options. I will continue making a brand. I will never stop improving! Most importantly, I will continue to have fun!
Editors Note: Chris has offered a $5 coupon code to Seven by Five readers.  Save $5 off in until 4/30/15 using the coupon code sevenbyfive.
–
Article by Chris Nitz – Owner, Strap Weaver and Puppet Master at Nitz Strap.