Over the last couple of years the term HDR has entered the jargon dictionary of most photographers. You hear it mentioned regularly by the guys at Photoshop user, and intensively featured again and again in various magazines at different levels of photography, almost to the point where it needs no introduction. However everyday the art that is photography sees more and more users pick up an SLR or semi-SLR camera, often overwhelmed by what is available in the market and what they actually need to know about.
Brands, Lenses, Techniques, Photoshop etc. For those who have only recently began to dip their toe in high end digital photography, or decided to expand their horizons and try out this "HDR" thats been so raved about one must first delve into what HDR stands for. High Dynamic Range. If you're still as confused about what this all means as you were a moment ago, not to worry. Dynamic range is the range that a light sensory device can attain when capturing and interpreting detail within the light.
What this means is that whatever the dynamic range of a device is, defines the amount of detail that can be captured within a specific range of light from zero darkness, to so bright its all white. This is why often in cameras when shooting directly into the sunlight either our family is well lit, and the background is completely white, or our backgrounds are relatively well lit with detail, and our subjects are often obscured in darkness.
This is because modern camera's simply cannot process the entire light spectrum from absolute darkness to fully white in the same image, unlike our eyes which perform much better because humans have a much wider dynamic range.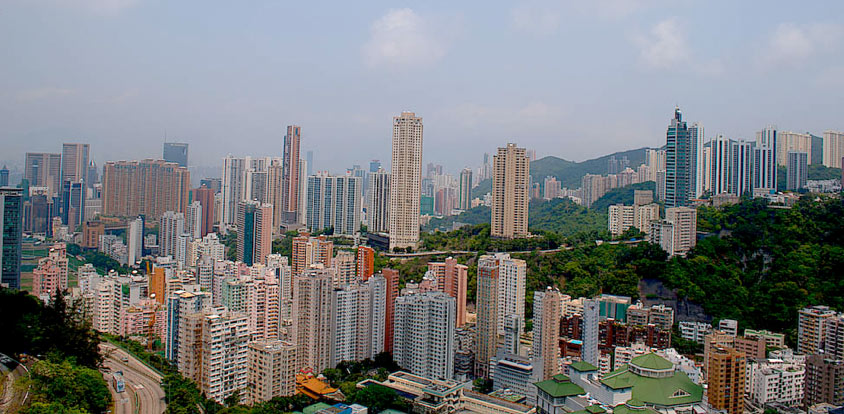 In the past to combat this often a sacrifice was needed between light and dark, or in more recent times, using flash to light your subject out of the darker bottom of your camera's dynamic range allowed one to successfully balance backgrounds and foreground. However lighting a subject may not always be the desired solution to a lighting situation. Often in landscape situations there isn't a subject to light that isn't the building or landscape.
So what do you do if you're shooting in a cathedral, with light oozing in thru the rafters creating this beautiful scene? Only to realize your camera will only let you expose so that those beam of lights are surrounded by darkness loosing the gorgeous detail that is the cathedral except for what's lit? Or do you keep the cathedral and blow out those shafts of light. Curse my camera's dynamic range you think! (Or not).
You're on location and certainly not equipped to expose for the shafts of light and flash the bajeebers out of that cathedral. So what do you do? Well you do expose for both! Thankfully modern Image processing has come up with a technique (HDR) which allows us to artificially expand our camera's Dynamic range by shooting the same scene at various ranges, and essentially piling the various exposures on top of each other to recreate the scene our eyes gloriously basked in which was being, "under-appreciated" so to speak by our camera.
And the best part is, all you need is your camera, and one of many available HDR software available out there. Making it a quick, easy and professional solution to capturing those scenes just as our eyes saw them. Ladies & Gentlemen the magic of HDR.
The HDR Scene has been predominantly dominated by Photomatix with their Lightroom Plug-in, or standalone version. Made easier as such by Lightroom's ability to quickly "merge to HDR" in Photoshop, creating a merged Image in Photoshop which could quickly have the photomatix plug-in filter applied to it, to bring out more customized sections of the dynamic range. Enter "Hydra" another contendant in producing those lovely HDR Images we all love. Available only for Macs in Aperture and Stand-alone flavors (coupled with a lightroom plug-in).
Presenting itself in a lovely and what appears to be, simple UI, the software appears to be very promising indeed. Unfortunately this is not the case as its simple interface is essentially its downfall. Like most users who consider themselves computer literate, I quickly delved into the software not interested in going thru guides, or documentation. However I quickly discovered that this would unfortunately be inevitable. With various unexplained modes, buttons, tabs and jargon, I was at a loss of where to begin or what did what.
Being a heavyweight Adobe Lightroom user my first priority was to install the advertised lightroom plug-in. This was unfortunately not explained and took me about 30 minutes of scouring their website and Google before figuring out there was an install option located inside hydra's file menu.
Having accomplished such, I went into Lightroom, and selected six of the images from my recent trip (a landscape) to convert to HDR. As opposed to using the "merge to HDR in Photoshop" function, Hydra requires you to use the export panel to make use of its plug-in. So I dutifully exported the Images, using the originals to maintain maximum dynamic range and under Hydra options I set it to Tiff8 Simply because my computer is old and rickety.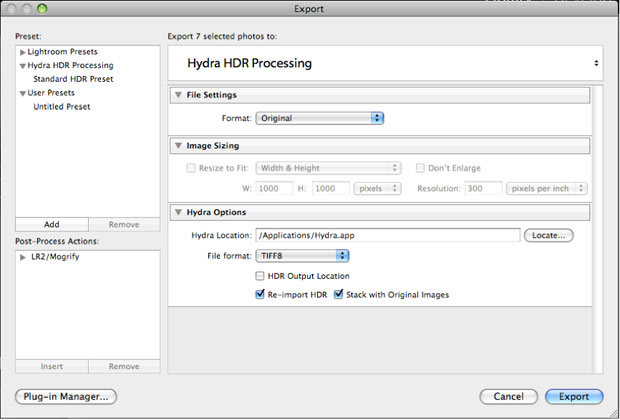 Once Inside Hydra I was greeted by an artful UI, Displaying the Images I had chosen on the left with a "result" large central Image.
Not knowing what was obviously available I clicked Render, assuming it would bring up some dialog boxes of some kind. I quickly discovered it was the render button, producing a grayed out jpeg, similar to the initial image you get when "exporting to HDR" in Photoshop. However considering the framework of the software I don't think that's what was supposed to come out.
Upon my second trial and doing some reading on the website I discovered that the little dialog box to the right (the transparent one) is the software's control panel and where all the fun happens. If you see there are four options along the top, Import, Align Merge (or fusion) and Pro.
For the purposes of the review I tried out the Align option and found it to be a nice addition in being able to fine-tune the software's align feature, however I eventually left it on automatic as I found it did a pretty good job of aligning the Images.
The Merge button is essentially the most important one in the software, transforming the tool dialog into the sliders that give your image that HDR look.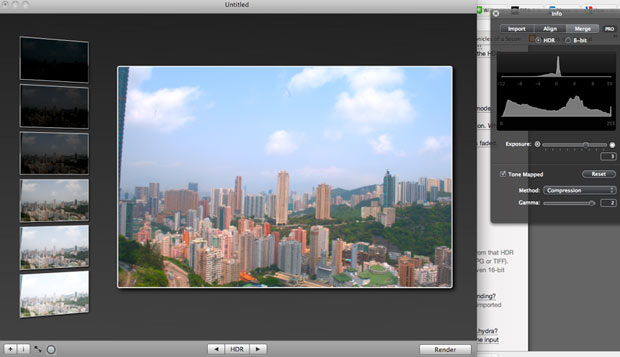 This left me quite stumped, as it appeared a little too simple. And Upon investigating the three methods in the dropdown box to and finding them to be independent of each other, I was confused as to how to get the results I wanted. That's what the final pro button is for.
Opening up options more closely tuned to those available in photomatix.
The rest is simply a matter of playing with the modes (HDR & 8Bit) and shifting the sliders to get a desired result. Something, which is also not clearly outlined (I.e. what do I play with for a specific outcome).
Image Critique
A selection of the images used to create the final HDR image.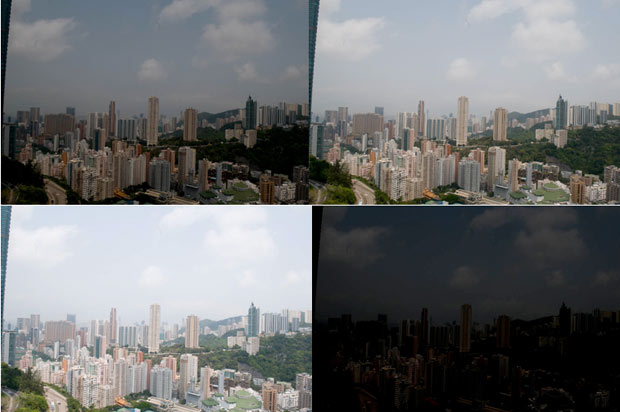 This is the final post Hydra processing resultant photograph :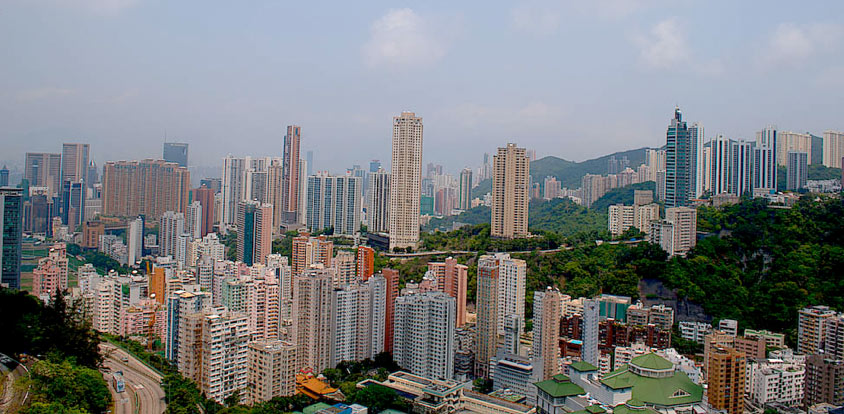 As you can see the colors are considerably more punchy, and I have managed to retain most if not all of the detail from the previous images.
The software manages to produce Images in a variety of output options form TIFFS to PSD's to simple Jpeg's making it easy to incorporate into any workflow. The quality of the images are of a high enough caliber to compete with Photomatix, although it may not be as visible thru these Images due to the compression for web, but Noise Levels are low, and detail and sharpness is well maintained, as well as colors.
Overall Hydra is a sturdy and well-rounded piece of software with lots of potential in producing incredible HDR Images. Its biggest flaw would be its UI and its inability to properly explain itself. Some work in explaining what each slider does In Software (even a first time "what does this do" dialog box which opens the first time (and every progressive time unless the checkbox do not open anymore) with some explanations would go a long way in making this more user friendly than it already is. Everything is laid out in front of the user, in an easy to view format, it just needs some clarifications and tooltips. Overall a descent piece of software.
Hydra is available as a stand alone application or a plugin for both Apple Aperture and Adobe Lightroom. A demo is available from the Creaceed website.
Review by Sblalani Photography
Links: