Over the last few days I have been working with Apple Aperture 3. The main motivation for such a move to Aperture from Lightroom is the fact iWork, AppleTV, iPhone and now iPad can sync or access images directly from the Aperture library.
The truth is the Apple fanboy in me simply wants everything to work together, after all the ease of user experience is the main reason I moved to Apple in the first place !!
I have to say I love the way Aperture manages my photos and today I have been experimenting with a range of different presets that are freely available free  on the internet. In this guide I am going to cover how easy it is to install, manage and use presets in Aperture 3.
Step 1: The Presets Menu
Open Aperture 3 and click on the "Adjustments" tab. You will see a "Presets" drop down on the left side of the window. Clicking this will reveal the default Apple presets. The shipped presets are pretty good but a quick Google for "Aperture 3 Presets" and you will discover a treasure trove of user created presets that will instantly transform your images.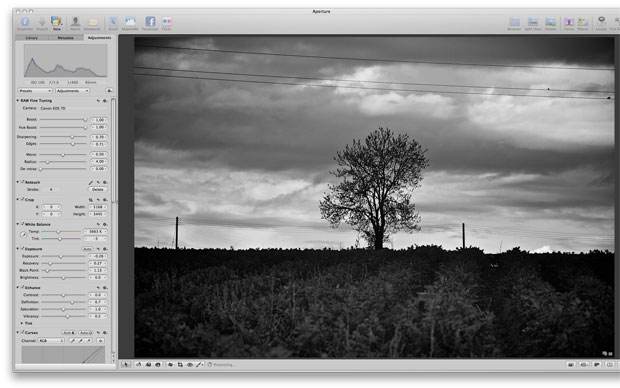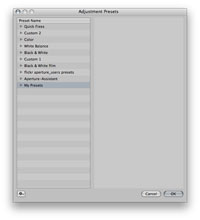 Click the "Presets" drop down and select the "Edit Presets" option this will reveal the preset management window.
My advice is to store your presets in groups as it makes finding 'similar' presets easier and also makes managing adjustments much easier to manage  as your list grows.
Click the gear icon on the bottom left of the window and select "Create a New Preset Group"
Step 2: Installing your Preset

Now re-click the gear icon and select
"Import". Browse to your  newly downloaded Aperture 3 preset, click on the icon and then click "OK"
Step 3: Applying your Preset
Back in the main Aperture window select the image you are working on. Now click on the Presets dropdown to see the list of presets available.
You should now see your created group and newly imported preset. Click the Preset name to apply it to your image.
There are obviously a larger number of Lightroom Presets available on the internet but a five or ten minutes on Google and I was playing with twenty different Aperture presets.
Interestingly I have found rather than just applying a preset and exporting the image in Aperture I am much more inclined to play with the image and make further enhancements and adjustments. I have to say I am pretty impressed with Aperture already ! now to create my own preset.