If I told you I'd always been into photography, I'd be lying. Unlike a lot of photographers out there who grew up, or at least claim to have grown up being fascinated with cameras and photography, my interest only started a few years back after I graduated from university (my degree wasn't photography related incase you were wondering).
As you can probably guess from my two featured photographs, my main interest is in action sports, particularly mountain biking. In fact, it was mountain biking that really sparked my interest in photography. Like most beginners, I started experimenting with the auto functions of an entry-level DSLR and soon progressed to manual mode after teaching myself the basics rules regarding shutter speeds, aperture and ISO.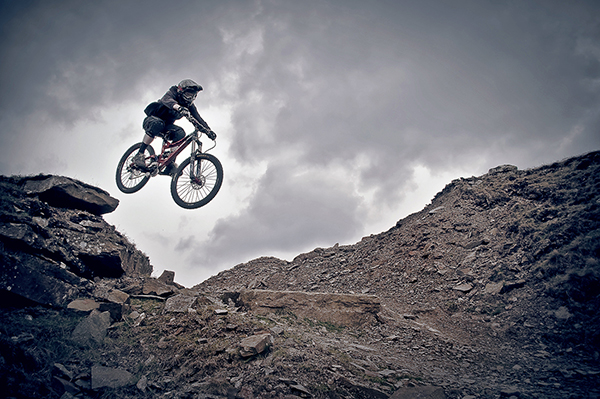 Once I got to the point where I felt photography was no longer a passing phase, I decided to invest in my own DSLR – a Nikon D5000. I bought myself a couple of budget flash guns (which I still use to this day) and really started sinking my teeth into action sports photography.
I soon started looking at photographs with a technical eye and tried to read as many interviews with professional action sports photographers as I could find. The website PINKBIKE was (and still is) a really great resource for me.
I've since switched from Nikon to Canon and shoot all my photos on a 550D and a 5DMKiii.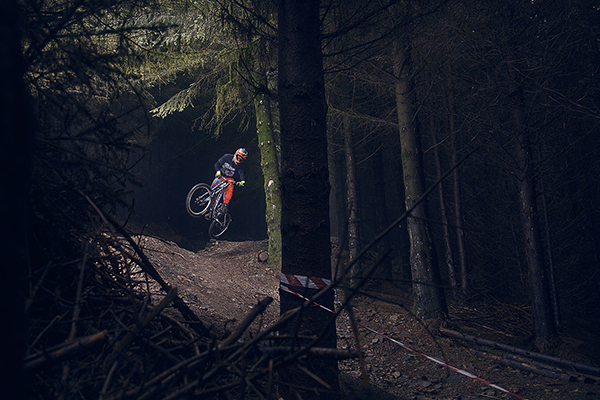 What I love about shooting bikes is the level of skill and dedication required to pull off a truly amazing shot. I'm the kind of person who likes to take one or two shots at a time as opposed to using the burst fire modes modern-day cameras can offer. Sometimes it can take 20 or 30 attempts to get something you and the rider are both happy with, but the feeling you get when you both nail it makes it all worthwhile. When I go out shooting for the day I'll be lucky to come back with more than 2 or 3 shots I'm genuinely happy with. When you're working with an athlete it really is all about teamwork. While you might think you got the perfect shot, the rider could quite reasonably turn to you and tell you he isn't happy with his riding or that he feels he could go bigger or inject a little more style. On the other hand, when the rider feels like he's pulled off something special you may find you took the shot slightly late or early or one of your flashes didn't fire properly. It can be quite frustrating at times but when you find someone who strives for the same level of perfection you do, you know you've found someone to form a good partnership with.
If you want to take a further look into the world of action sports photography then I recommend checking out the work of Sven Martin, Ian Hylands, Dan Barham, Sterling Lorence, Harookz, Margus Riga and Dan Vojtech amongst many others.
Happy shooting. Thanks for reading.
Links:
http://www.blackrockcreative.co.uk
http://www.facebook.com/BlackRockCreative
http://www.twitter.com/BlackRockCRTV
http://www.pinterest.com/blackrockcrtv