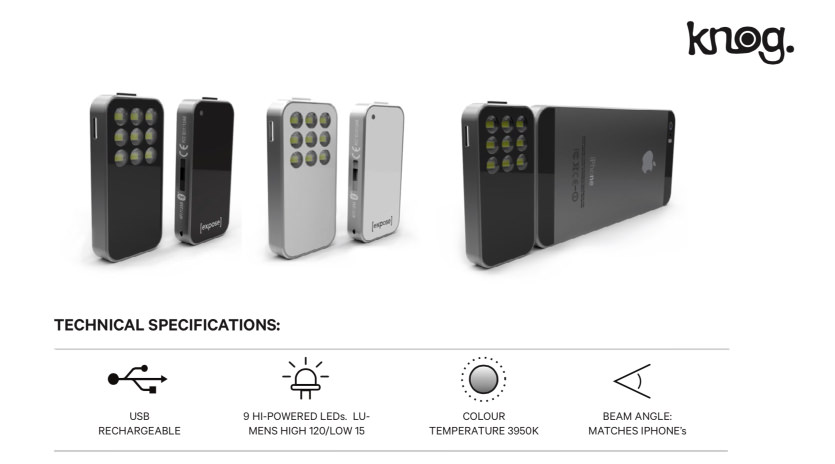 Knog is a company who creates LED lighting products for a variety of things like cycling, GoPros and others of course.  During PhotoPlus Expo I was delighted to receive their new [expose] light to test and share my thoughts on.
The press release is below, but here are my initial thoughts on the new light.
There are 9 LED lights on this tiny device and they're extremely bright for being so small.
The iPhone app is ok, but not that great.  The bluetooth control could be better by being more responsive.
It would be brilliant to allow control of the LED outside of the branded app.
The product comes with multiple attachment pieces, but if your iPhone case is large, like a Lifeproof case, then you won't be able to use any of the attachments.
There is a click style attachment which I believe is meant for a pocket, but it also works perfectly on a MacBook's screen.
I wish there was a diffusion modifier to further soften the light beyond the dim feature.
Overall the product is pretty cool and if you are in need of something like this then it's perfect for most iPhone mini still or video sessions.  Great for family recordings for sure!
Press Release
Leading global accessories brand, Knog, announces the launch of the [expose] smart, a powerful new light for the iPhone that allows users to shoot stunningly lit videos in the dark.
Designed to complement both the iPhone's aesthetic and its camera's beam angle, the [expose] smart works seamlessly via a custom Bluetooth app. This gives users total control over brightness, flash mode and white balance.
Adjustable settings offer up to 120 lumens from nine hi-power LEDS, and importantly, the light far exceeds the iPhone's built-in light. The USB rechargeable LiPo battery can run for over an hour to ensure you can light up your whole night. At just 16 grams, the [expose] smart also comes with connectors for use with iPhone cases and a durable lanyard to always keep it close.
"We noticed that the iPhone's light is helpful in certain situations, but does not deliver the great quality video and photos that we all hope for. In today's broadcast generation, we didn't understand how this could be", says Hugo Davidson, Knog's co-founder and CEO. "We wanted to develop an iPhone light that didn't compromise – one that was bright but not big; technologically smart, but still affordable. So we got to work on the [expose] smart light, making sure we matched the design to that of the hallowed iPhone look".
The [expose] smart is the second in Knog's new range of video lights, following the launch of the hugely successful [qudos] action light for GoPro and DSLRs. The two lights using bike, outdoor, snow, dive and consumer electronics channels have doubled Knog's reach putting it in a stronger position to both further develop its bike business, and its positioning as a global electronics brand.