As a fine art landscape photographer, my equipment is essential in creating the best quality images. After my previous life experiences as an interpretive park ranger in Sequoia & Kings Canyon National Park and working inside the art business – I realized my true calling was a mix of both worlds. Combining my love for nature and photography I established my current venture in 2004, Avatar Design House & Knowmad Gallery (ADH/K).
After traveling the United States during a 37 state road trip in 2011, I returned with many valuable images to edit and sell. As much as my photos and equipment are on the high-end, the same is held true for my client base. Selling and working with high-end designers and projects has been ADH/K's standard and obtaining the tools to do so has been imperative.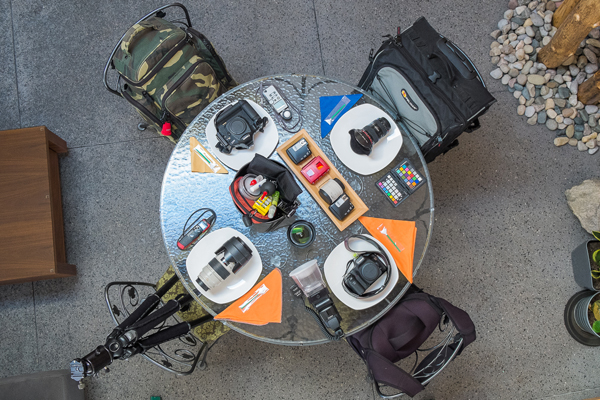 I've decided to capture some of the most important equipment, starting with the bodies – the Canon EOS 5D and Canon EOS 1Ds Mark III. My go-to lenses include: Canon 24-70mm f/2.8L, 16-35mm f/2.8L, Canon 70-200 f/2.8L as well as a Canon 2x extender. A few other lenses I took with me on my trip, which are not pictured, are the Canon 50mm f/1.2L and Canon 600mm f/4L.
Next up are my camera bags, which are an essential part of any landscape photographer's gear. Mine include the Kata Bag, UDG Gear and Pelican bag.
Gitzo Carbon Fiber Tripod is what I carried with me on my road trip and the tripod that I still use and trust today. As far as keeping the camera stable and images consistent, I also use the Canon TC 80N3 Camera Remote, Pocket Wizard Flex TT5, Sekonic L-358 Meter and Canon Speedlite.
Smaller, but still essential, items include: Giotto's Rocket Air Blaster, Eneloop Batteries, Storacell by Powerpax Battery Caddy, Gary Fong Lightsphere, Vello Hot-Shoe Bubble Level, ColorChecker Passport.
–
Sustainable living advocate and fine art landscape photographer from Metro Detroit, Michigan.
www.avatarknowmad.com